..Puerto Rico's ..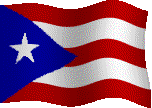 65th Infantry Regiment
Bronze Star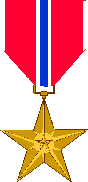 HEADQUARTERS 3D INFANTRY DIVISION
GENERAL ORDERS - NUMBER 267 - 17 November 1952

AWARD OF THE BRONZE STAR MEDAL - By direction of the President, under the provisions of Executive Order 9419, 4 February 1944 (Sec II, WD Bul 3, 1944), and pursuant to authority in AR 600-45, the Bronze Star Medal with Letter "V" device for heroic achievement in connection with military operations against an enemy of the United States is awarded to the following named enlisted men:

Second Lieutenant LUIS A. TAVEREZ, 02263687, Infantry, Company "B", 65th Infantry Regiment, 3d Infantry Division, United States Army. On 5 July 1952, near Chokko-ri, Korea, a friendly vehicle was hit and overturned by enemy artillery, injuring its occupants. Observing the accident and sensing that the injured men needed immediate attention, Lieutenant TAVEREZ, with a few volunteers, unhesitatingly rushed to the scene of the turmoil. Upon arriving at the position where the disabled vehicle lay, he ordered his men to take cover from the enemy artillery fire. With complete disregard for his personal safety, he began to administer first aid, although the enemy rounds continued to fall dangerously close to him. After aiding the injured men as much as possible, he fearlessly crossed the shell-torn area as he assisted in their evacuation to a position of safety. He then had a vehicle brought forward so that the injured men could be removed to an aid station to receive further medical treatment. Lieutenant TAVEREZ' heroism and selfless actions were instrumental in saving the lives of his fellow soldiers and reflect great credit upon himself and the military service. Entered the Federal service from Puerto Rico.