..Puerto Rico's ..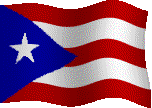 65th Infantry Regiment
Bronze Star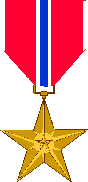 HEADQUARTERS 3D INFANTRY DIVISION
GENERAL ORDERS - NUMBER 285 - 4 September 1952

AWARD OF THE BRONZE STAR MEDAL - By direction of the President, under the provisions of Executive Order 9419, 4 February 1944 (Sec II, WD Bul 3, 1944), and pursuant to authority in AR 600-45, the Bronze Star Medal with Letter "V" device for heroic achievement in connection with military operations against an enemy of the United States is awarded to the following named enlisted men:

Corporal (then Private First Class) BONFACIO ROLDAN-GALARZA, US50105407, Army Medical Service, Medical Company, 65th Infantry, 3d Division, United States Army. In the early morning hours 14 January, 1952, a patrol from Company "I" was reconnoitering Hill 143, near Chong-dong, Korea, when it was subjected to an intense barrage of enemy mortar fire. After a brief fight the patrol was ordered to break contact and return to the company outpost. As the patrol was withdrawing it was discovered that a seriously wounded man had been left behind at the scene of the battle. Corporal ROLDAN-GALARZA, a medical aidman attached to Company "I", unhesitatingly volunteered to lead a litter team back into the hazardous area to rescue the wounded man. Although the entire area was still being heavily bombarded by enemy mortar fire, Corporal ROLDON-GALARZA fearlessly led the litter team over the shell torn terrain to the side of the wounded man and, after administering first aid, led the rescue party back to friendly lines where further medical aid was given the wounded man. Corporal ROLDAN-GALARZA'S heroism and untiring devotion to duty wewe instrumental in saving the life of a fellow soldier and reflect great credit upon himself and the military service. Entered the Federal service from Puerto Rico.