..Puerto Rico's ..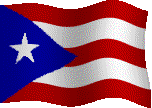 65th Infantry Regiment
Bronze Star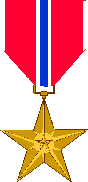 HEADQUARTERS 3D INFANTRY DIVISION
GENERAL ORDERS - NUMBER 265 - 11 August 1952

AWARD OF THE BRONZE STAR MEDAL - By direction of the President, under the provisions of Executive Order 9419, 4 February 1944 (Sec II, WD Bul 3, 1944), and pursuant to authority in AR 600-45, the Bronze Star Medal with Letter "V" device for heroic achievement in connection with military operations against an enemy of the United States is awarded to the following named enlisted men:

Sergeant (then Private First Class) ENRIQUE G. CRESPO, US50106778, Infantry, Company "I", 65th Infantry, 3d Infantry Division, United States Army. On 13 January 1952, a patrol from Company "I" was given the mission of reconnoitering the top and reverse slope of Hill 153, near Chong-dong, Korea. As the lead squad of the patrol advanced to within fifteen yards of the crest of the hill, it was suddenly subjected to a tremendous volume of small arms and grenade fire from a well entrenched and cleverly camouflaged enemy force. Sergeant CRESPO immediately returned the hostile fire and continued to do so with devastating accuracy until his weapon was damaged and rendered useless by enemy fire. Undaunted, he took the automatic rifle of a wounded man and again began showering the enemy positions with a lethal barrage of fire, effectively keeping the foe pinned to the ground and allowing the friendly patrol to break contact and proceed back to its company area. Sergeant CRESPO'S heroic actions and untiring devotion to duty reflect great credit upon himself and the military service. Entered the Federal service from Puerto Rico.

Source: Record Group 338: General Orders 3rd Infantry Division, Boxes 129 to 131 -

National Archives and Records Administration, College Park, Maryland.