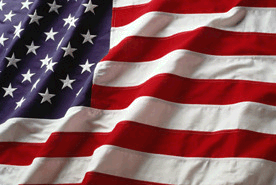 ..Special Announcements...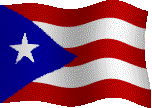 ---
Chief Warrent officer Pastor Figueroa Rodriguez

Aug 6, 1897 - Aug 22, 1979

C.W.O Pastor Figueroa Rodriguez #355390, son of Evaristo Figueroa and Julia Rodriguez was born on August 6, 1897 in Toa Baja, Puerto Rico. He enrolled in the U.S. Army at eighteen on August 3, 1916 and served in the United States Military Service for more than 29 years. He was active in both World Wars and the Korean War. His decorations include the American Defense Service Medal with Foreign Service Clasp, the American theater Campaign Medal, the World War II Victory Medal, World War I Victory Medal, Good Conduct Medal, Legion of Merit Medal, European African Middle Eastern Theater Campaign Medal and two Bronze Stars. Pastor Figueroa Rodriguez also served in the Army Air Force with the rank of Master Sergeant. Pastor Figueroa Rodriguez worked for a number of years in the Finance Department at Ramey Base, he earned a B.A. from the University of Puerto Rico and was about to get his CPA when he passed away at the age of 82.

This information along with the photographs, was submitted to this site by his grand daughter Myrna Ivy Figueroa Colon. Please click on name to see photos. ____________________________________________________________________________________________________________________________

Aladino Quiles Rivera

1933 - 1994

Aladino Quiles Rivera was born in Utuado, Puerto Rico, on November 17, 1933. He was the son of Praxedes Rivera and Francisco Quiles. He was the second of three children. He had an older brother Francisco "Pepin", and a younger sister Minerva. He was very active and adventurous, and when Pepin joined the Army (33rd Infantry), he saw this as a good way to see the world too.

Aladino enlisted in the Army on October 9, 1951. He was 17 years old. His military life gave him what he wanted. He traveled to New York, and trained at Fort Dix. He returned to Puerto Rico and was stationed out of Fort Buchanan. He later traveled to Germany, Hawaii, and Japan.

He was assigned to Company A, of the 65th Infantry Regiment. He achieved the rank of Staff Sergeant and became an excellent marksman with the M1 Springfield rifle. He was a member of a light weapons assault unit. His combat experience took him to North and South Korea. On February 22, 1953 his squad came under attack by mortar fire. Aladino sustained fragment related injuries to the face, arms, back, abdomen and legs. After surgery, Aladino recuperated for approximately three months and returned to duty. He was awarded the Purple Heart. His other awards and citations include the Combat Infantryman's Badge, The National Defense Service Medal, The Korean Service Medal, The United Nations service medal, The Republic of Korea War service medal and the Presidential Unit Citation pin.

Aladino had relatives in Dorado, and in his visits he met Sylvia Martinez-Ortiz, whom he married, and with whom he had two children. After his discharge from the Army he lived in New York. He retired in 1983 and returned to Puerto Rico. He enjoyed his life, his family, his grandchildren, and playing his guitar.

He died on March 7, 1994. Although he was quite a talker and story teller he rarely spoke of Korea.

________________________________________________________________________________________________________________________


PFC Andres Gines Osorio

_________________________________________________________________________________________________

Sept. 28, 2000
Los Angeles Times Horacio "Rivets" Rivero, the Navy's first four-star admiral of Latino descent and the U.S. ambassador to Spain during the waning years of Francisco Franco's regime, has died. He was 90. Rivero died Sunday at his home in Coronado, Calif. A fourth star was pinned on Rivero's shoulder board in 1964, making him the first Latino to reach that rank. The first Latino admiral in the U.S. Navy was David G. Farragut, who uttered the immortal line, "Damn the torpedoes! Full speed ahead!" Farragut, the son of an immigrant from Spain, became an admiral in 1866. Growing up surrounded by water in his native Puerto Rico, Rivero always longed to go into the Navy. He won an appointment to the U.S. Naval Academy in 1927. Graduating in 1931,
third in his class of 441, Rivero became a specialist in ordnance engineering and, later, nuclear weapons. During World War II, he was a gunnery officer aboard the cruisers USS San Juan and USS Pittsburgh in the Pacific theater, earning a ! Bronze Star. In the Korean War, he commanded the amphibious transport USS Noble. By the time of the Cuban missile crisis in October 1962, he was commander of amphibious forces for the Atlantic Fleet. As a nuclear weapons expert, Rivero was privy to the Manhattan Project. After the war, he worked on atomic bomb tests on the Pacific islands of Bikini and Eniwetok. From 1961 to 1968, Rivero was vice chief of naval operations, the Navy's second-ranking post. He spent his last four years in uniform as commander of Allied Forces in Southern Europe for NATO. He was later appointed U.S. ambassador to Spain, and served for two years. In retirement, Rivero served as an adviser to the chief of naval operations, the Naval Academy, and the Naval War College.

---

10/02/2000
Benigno Carreras, 72, of Bethlehem, died Saturday, Sept. 30, in the Visiting Nurses Association Hospice of St. Luke's Hospital, Fountain Hill. He was the husband of Josephine (Czar) Carreras.
He was a logistics coordinator at the Lehigh Valley Postal Service facility before retiring in 1988.
He was a graduate of the New York Institute of Radio and Television. Born in Honolulu, Hawaii, he was a son of the late Benigno and Alice (Galindo) Carreras. He was a member of Notre Dame of Bethlehem Catholic Church. He was an Army veteran of the Korean War and was awarded the Purple Heart. He was a member of the Bethlehem area Men Of Retirement Age Club and the Hellertown American Legion Post 397. Survivors: Wife; sons, Steven of Florence, S.C., Benigno of Commack, N.Y., Kenneth; daughters, Cathleen Baker of Glenside, Montgomery County, Cynthia Perez of Bethlehem, Sonia Rivera of Ridgefield, N.J.; brothers, John of Orlando, Fla., Peter of
Mission Viejo, Calif.; sisters, Anna Mercado of West Hempstead, N.Y., Eugenia Diaz; 13 grandchildren. Mass: 10 a.m. Wednesday in the church. Call 7-9 p.m. Tuesday and 8:45-9:30 a.m. Wednesday, both in the Snyder-Hinkle Funeral Home, 527 Center St., Bethlehem.
Contributions: VNA Hospice.

---

10/12/2000
San Antonio Express-News
Mr. Willie Robledo Salazar, born July 17, 1931, went to be with Lord on Wednesday, October 11, 2000 at the age of 69. Willie Salazar served in the U.S. Army for two years. He was a veteran of the Korean War, an active citizen of his community, and the President of the Palm Heights Normyle Little League Baseball. He was employed at Alamo Heights High School for over10 years where he retired. He was a devoted husband and very supportive father, he always was there to lend a helping hand to those in need. He is survived by his wife of 48 years, Romanita G. Salazar; children, Willie Salazar Jr., Wilbert Salazar, Roland Salazar, Robert Salazar, Terry S. Arguello, Juan Salazar, Rudy Salazar, Rick Salazar and Ray Salazar; sisters, Vidala S. Markovic and Lina Salazar; 22 Grandchildren and five great-grandchildren; eight daughters-in-law and one son-in-law; aunt, Carmen Robledo. A Rosary will be recited Friday, 7:00 P.M. at the Trevino Funeral Home. Procession will depart Saturday, 10:00 A.M. for a 10:30 A.M. Mass at Our Lady of Guadalupe Catholic Church. Interment will follow in San Fernando Cemetery No. 2 under the
direction of Trevino Funeral Home.

---

GARCIA, JOHN MORGAN, 73, of St. Petersburg, formerly of Tampa, died Friday (Oct. 13, 2000) at St. Petersburg General Hospital. He came here 67 years ago from his native Tampa. He was a graduate of St. Petersburg High School and was part of the first male class to attend Florida State University. He was a Navy veteran of World War II and the Korean War. He worked for
several electronics firms, including Tipton's TV & Electronics, before opening Garcia TV Sales and Service in St. Petersburg in 1960. He sponsored numerous Little League baseball teams and enjoyed camping with his family. He was an electronics instructor at Pinellas Vocational Technical Institute beginning in the mid-70s, retiring in 1989. He was editor of the Printed Board, a newsletter of the Television Service Dealers Association, and was president of the South Pinellas County Retired Educators Association. He and his wife received the award for Volunteers of 1999-2000 from the association. He was a delegate to the state and national conventions of the National Education Association for more than 20 years. He was a model train hobbyist. He was a
member of St. Mark's United Methodist Church. Survivors include his wife, Joyce; three sons, Richard, St. Petersburg, John Jr., Cool, Calif., and Robert, Glen Cove, N.Y.; a daughter, Lisa Gussler, St. Petersburg; a sister, Elsie May, Palm Harbor; and six grandchildren. Anderson-McQueen Funeral Homes & Cremation Tribute Center-Bobbitt Chapel, St. Petersburg.

---

Source: Tampa Tribune ( Tuesday, October 17, 2000 )
MERCADO, James, 76, of Tampa, died Monday at St. Joseph's Hospital. Survived by his wife, Norma Mercado, four sons, James Mercado, Jr., Shermansdale, PA., Manuel E. Mercado, Tampa, Jody F. Mercado, Harrisburg, PA. and Remy Mercado, Tampa, 7 brothers, 4 sisters, 6 grandchildren and 1 great grandchildren. Born in Rincon, Puerto Rico, Mr. Mercado had been a resident of Tampa since 1969. He was a veteran of the US Army during WWII and was a general manger of a merchandise company. Funeral services will be held at 2:00 PM Friday in the funeral home chapel, with Pastor Kent Riner of Peninsular Christian Church officiating. Interment will follow in Garden of Memories. The family will receive friends from 6:00-8:00 PM Thursday at the funeral home. In lieu of flowers please make contributions to a charity of your choice.

---

Source: Star Ledger ( Friday, October 20, 2000 )
Luis Rodriguez, 87, of Lincoln Park died yesterday at home. Arrangements are by the Keri Memorial Funeral Home, Lincoln Park. Mr. Rodriguez was a draftsman at Howard, Needles, Tamman and Bergendorf Engineering, Fairfield, for 40 years before retiring two years ago.
He served in the Navy during World War II in the Seabees. Born in Naguabo, Puerto Rico, Mr. Rodriguez lived in New York City before moving to Lincoln Park in 1964. Surviving are his wife, Lena; a son, Jose; a daughter, Mrs. Yvonne Calderon; a brother, Efrain; a sister, Mrs. Carlota DeArteaga; seven grandchildren and eight great-grandchildren.
Source: Star Ledger ( Friday, October 20, 2000 )

---
Washington Post, Friday, December 29, 2000
Ramon Semidey-Soto
Ramon Semidey-Soto once told his brother that if he had to live his life over, he wouldn't change a thing. Twenty-eight years in the U.S. Army as a combat engineer, serving in World War II, the Korean War and three tours in Vietnam. Twenty-two years as a custodian at the Episcopal seminary and a church in Alexandria after his military career. His brief 1950s courtship of Camelia, the pretty girl who lived across the street from his mother in Mayaguez, Puerto Rico, and the couple's sudden decision to marry when Ramon was on leave in 1955. Their nine children, plus "strays" he often invited home -- mostly young Puerto Rican soldiers at Fort Belvoir, homesick for homemade rice and beans. A fierce devotion to family: Any party that did not include the kids was not for him. His old-fashioned ways: no dating or makeup for his daughters.
His ancestral pride: Every year, the family attended the National Puerto Rican Day Parade in New York City. His corny humor: "I! 'm full," one of the kids might say at dinner. "Glad to meet you 'Full,' " he would reply. "I'm Ramon." "He was a happy person," his brother, Jose, summed up.
Ramon left school after eighth grade to help support his family. He cut sugar cane, picked coffee beans, worked as a carpenter's helper and clerked in a food store. When the Army got its hands on him in May 1942, he was 20 years old and weighed 111 pounds. He sent his Army paychecks home to his mother. After his 1945 discharge, he took up cabinet-making. But that changed in 1951, when his brother Pedro was killed in Korea. "It made him angry," recalled Jose. "He felt responsible because . . . he thought he was supposed to be there." Over their grieving mother's objections, Ramon reenlisted, making the Army his career. He eventually obtained his high school equivalency diploma, completed various military training courses and worked his way up the ranks to sergeant first class. In 1968, the family moved to Alexandria after Ramon got a teaching position at Fort Belvoir's combat engineering school. He retired at age 55 with a dozen medals and citations. Not one to sit around, Ramon took a custodial job at Virginia Theological Seminary and later became sexton at Episcopal Church of the Resurrection, both in Alexandria.
"He was wonderful to be around. And he did his job better than anybody should have a right to expect," said the Rev. James Green, the church's retired rector. "I don't think he would have recognized the word 'menial.' " Ramon's daughter Carmen Bishop said her father "was afraid to retire, because he thought he would die." He finally did quit, though, in 1995. Then 74, he and Camelia began traveling. But just two years later, his health began to fail. First it was cataracts, then cancer of the prostate and colon. He died at Walter Reed Army Medical Center on Jan. 13. He was 78. For the wake, his family displayed his Army medals and draped his casket with the American flag. Their request for a military funeral was denied, the mortuary was told, because the burial was Jan. 17, a federal holiday. The news disappointed, even angered, his widow and children. "That's something he would have liked," said Carmen. Besides, added daughter Elvira Urrutia, "He deserved it."
-- Sylvia Moreno

---
Published in the Home News Tribune 1/5/01
Michael J. Cordero Sr., 79, of Woodbridge died Wednesday at home. He was born in Brooklyn, N.Y., and had lived in Woodbridge the past 40 years. He was employed for 33 years as a tractor-trailer operator with Bil-Kay's Express in Elizabeth before retiring in 1984. He was a member of Teamsters Union Local 407 in Newark, and Teamsters Union Local 807 in Elizabeth. He was an Army veteran of World War II. He served with the 82nd Airborne and the 106th Airborne units as an infantry soldier as well as a tank-destroyer crew chief, and in the 706th Tanker Division under General George Patton. He participated in battles at the Rhineland Bridge, and in Normandy and Bastogne, including the Battle of the Bulge. He was a communicant of St. James R.C. Church of Woodbridge. He is survived by his wife, the former Nena Cassano; three sons, Michael Jr. of Sparta, N.J., Gary of Carteret and Ronald Sr. of Edison; a sister, Rose Catalana of Howard Beach, N.Y.; a brother, Frank Cordero of Clearwater, Fla., and five grandchildren, Ronald Jr., Brian, Thomas, Jennifer and Jaclyn. The funeral will be held at 11 a.m. Saturday at Leon J. Gerity Funeral Home, 411 Amboy Ave., Woodbridge, followed by an 11:30 a.m. Mass at St. James R.C. Church in Woodbridge. Entombment will follow at St. James Mausoleum, Woodbridge. Visiting will be from 2-4 and 7-9 p.m. today at the funeral home. Donations in his memory can be made to St. James R.C. Church of Woodbridge.

---
July 2, 2003


Colonel (Retired) Howard Bertolet St. Clair
West Point Class of 1939
(Cadet Number 11619)

Colonel (Retired) Howard Bertolet St. Clair passed away of natural causes on July 2, 2003 in Charlotte, North Carolina. He was 87 years old. He was born on June 11, 1916 in War, West Virginia to Will and Ethel Dixon St. Clair. His military career spanned thirty years and included service in World War II, the Korean War, and the Vietnam War.
Howard St. Clair entered the United States Military Academy at West Point, New York in 1935 after one year at Marshal College in West Virginia. According to a classmate, St. Clair "ran afoul of the academics Plebe year, fought the usual battle, won, and hasn't worried since about the Academic Department." A natural athlete "Saint" devoted himself to track and cross country and was a pistol sharpshooter. He also taught Sunday school for three years. He graduated on June 12, 1939, as the clouds of war were gathering over Europe. The graduation speaker was President Franklin Delano Roosevelt. St. Clair served as the G2 (Intelligence Officer) of the 99th Infantry Division during World War II in the European Theater of Operations. Arriving in Le Havre, France on November 3, 1944, the division saw bitter fighting during the Battle of the Bulge and at the Ruhr pocket and suffered some 6,100 battle casualties, including almost 1,100 killed in action. After the war he served with the 15th Armored Division and then in the War Department General Staff. In 1949 he assumed command of the 1st Battalion, 65th Infantry Regiment, stationed at Losey Field in Puerto Rico. The unit was the Regular Army's only all-Hispanic infantry regiment. St. Clair's battalion played a major role in the 65th Infantry's stubborn defense of Vieques Island during the Puerto Rico Exercises (PORTREX) of 1950. PORTREX was the American military's largest joint, amphibious, and airborne maneuvers in history. The regiment's defense of the island against the soldiers of the 3d Infantry Division and a battalion of paratroopers from the Army's elite 82d Airborne Division received wide publicity and garnered the praises of the nation's senior civilian and military leadership, which was instrumental in the decision to send the 65th Infantry to Korea following the outbreak of war there in June 1950. Deploying in August aboard the United States Troop Ship Marine Lynx, St. Clair's 1st Battalion arrived in Korea in September and spearheaded the regiment's drive north as part of first the 2nd Infantry and then the 25th Infantry Divisions. In October the 65th Infantry finally joined the 3d Infantry Division, the regiment's parent unit for the duration of the war. Colonel St. Clair's raw courage in combat served his battalion well. In November 1950, after one of his companies had been attacked and surrounded by Chinese Communist Forces, he fought his way to the isolated unit and, with utter disregard for his own safety, organized a defense under fire, ensuring the survival of his men pending the arrival of reinforcements. And during the Spring of 1951, after elements of his battalion were surprised and almost overwhelmed by a large enemy force, he again moved to the forefront of the fighting, crossing bullet-swept terrain many times to direct a successful defense and call in supporting fires. While his men repulsed an attacking Chinese regiment, inflicting staggering losses on the enemy, Colonel St. Clair moved "fearlessly about the embattled perimeter urging his battle weary troops to stand firm." While in command of the 1st Battalion in Korea, Colonel St. Clair was decorated with two Silver Stars, a Bronze Star Medal, and an Air Medal. His performance had been noted by General Matthew B. Ridgway, the Eighth Army Commander, who personally selected St. Clair for regimental command later in his career. Upon the completion of his tour of duty as a battalion commander, Colonel St. Clair was assigned to Headquarters, U.S. Army Field Forces at Fort Monroe, Virginia. This was followed by a tour with the National Security Agency in Maryland from 1955 to 1957. In 1957 he took command of the 28th Infantry Regiment, then stationed in Germany. At the time the regiment had one Battle Group attached to the 8th Infantry Division and a second attached to the 1st Infantry Division. Colonel St. Clair went on to serve with Special Operations Forces in Europe and in 1960 he became the VII Corps G3 (Operations Officer). From 1962 to 1965 he served on the Staff and Faculty of the Infantry School at Fort Benning, Georgia. This was followed by a tour as the Republic of Vietnam's I Corps Senior U.S. Adviser, responsible for the U.S. military advisory effort in the country's five northern provinces. In 1966 Colonel St. Clair joined the staff of U.S. Strike Command at MacDill Air Force Base in Florida. He retired in 1969 after three wars and thirty years of distinguished service.
Colonel St. Clair's awards and decorations include the Combat Infantry Badge with Star and Wreath, two Silver Star and two Bronze Star Medals for valor, the Legion of Merit, six Air Medals, the Joint Service Commendation Medal, and three Commendation Medals.
Howard St. Clair spent most of his retirement in Columbia, SC. He was devoted to his children, West Point, the Army, and his home and family in West Virginia. Those close to him knew that his gruff demeanor belied a sensitive and caring soul. He is survived by his brother Sam, children Diane, Michael, and Steven, and his grandchildren Michael, Jennifer, Stephanie, Daniel, Nicholas, and Christopher – to whom he was the Grand Colonel. His devotion to his country, sense of duty and honor, and love of friends and family will always be with us.
A memorial service with full military honors will be held on Friday, September 12, 2003 at Arlington National Cemetery in Washington D.C.

Colonel Gilberto Villahermosa
Cpl. Ramiro Rivera Martinez. died on February 27, 2004. He fought in the Korean War from 1951-53 with the 65th Inf. Regt, M Company. Photographs of Cpl. Ramiro Rivera Martinez can be seen at

http://www.valerosos.com/65th-infantry-regiment2/65th-infantry-regiment-46-58/index.html
________________________________________________________________________________________________________________
Ruben Santiago Cabrera died on April 20, 2004. PFC Ruben Santiago Cabrera served with Company D, 65th Infantry Regiment during the Korean War. He was a recipient of the Bronze Star for Valor on December 22, 1950. Ruben Santiago Cabrera was also a veteran of the Vietnam War. I was informed of his passing by his daughter Hilda Eickenhorst.

______________________________________________________________________________________________________________

My Father, SSG Nestor D. Ramirez, a career soldier and a native of Maricao, PR served with the 65th Inf. Regt.(H Co.)during WW2 and Korea. Dad passed away on Nov.2, 2004. I am very proud to be his son. He is buried with my mother, Irma Ramirez, at Arlington National Cemetery. Thank you for honoring all 65th veterans!!

COL Nestor D. Ramirez, Jr., JAGC-USAR

____________________________________________________________________________________________
"Mario E. Villamarzo, a 33 year World War II US Army veteran and father of 4 died on Tuesday, 04 January 2005. A resident of Sierra Vista for the past 8 years, he was born in the family home in Ponce, PR, on 24 January 1916. One of 10 children of a Spanish immigrant father José Villamarzo Lledín and a Puerto Rican mother América López Pagán, he was 88 years old. He died at home with his eldest daughter, Gloria. In the beginning of his long Army career he served with the Puerto Rico Army National Guard in the early 1940s, later during WWII as a member of the 65th Infantry Regiment he served in North Africa, France and ultimately in Germany as part of the Army of Occupation. After the War he served at various posts in the Panama Canal Zone, the Continental United States and in West Germany. Captain Mario E. Villamarzo retired in January 1971. I was informed of his passing by his daughter Gloria Dueltgen."

Letters from Captain Mario E. Villamarzo to his daughter Gloria by v-mail. At the time Captain Mario E. Villamarzo was in Europe with the 65th, Gloria was 2 years old. V, or Victory mail, was the process of microfilming letters written by soldiers during W.W. II. For additional information about the process, which was an English idea to save cargo space when delivering mail, visit the National Postal Museum, a Smithsonian Institution museum, located in the old Post Office building next to Union Station in Washington, D.C., the link to their web site is - National Postal Museum

________________________________________________________________________________________________________

These two photos of a combat helmet of W.W.II vintage was submitted to this site by Jean-Loup Gassend. Below is a short paragraph explaining how the helmet came into his possession.

In 2003 I decided to go and visit Col de Bross, near Sospel, a mountain pass in southern France that the 517th parachutist regimental combat team had trouble capturing in September 1944. I went into the local bar to ask the owners if ever people ever found any relics on the battle field. It just happened to be that the owner had recently found this helmet stuck in the branches of a tree way down in a lost valley, near Peira Cava, about 20 km away from col de Bross. He accepted to exchange the helmet for a "Pastis" (a famous alcohol from Provence) pitcher, that he then added to his pitcher collection. The helmet has remnants of camouflage on it, particularly visible on the front left side as a black streak. That, and the fact it was discovered in Peira Cava made it very probable that this was a helmet from the 517th prct. But there was also a Malta cross and what appeared to be the number 69 engraved on the front of the helmet, the meaning of which remained a mystery to me. It was only in 2005, with precious help from an internet forum, that I discovered that the Malta cross was the insignia of the Puerto Rican volunteer 65th Infantry regiment, who arrived in southern France in September 1944, and were then sent to... Peira Cava. All the chips fell into place. It is surprising to see that there is camouflage paint on what is only an Infantry helmet. The soldier who wore this helmet must have been proud to be a Puerto Rican volunteer, since he took time to engrave the units insignia into the paint, which was not common practice in the US army.

Jean-Loup Gassend

_____________________________________________________________________________________________________________________________

NOV 3, 2005, NYC CITY HALL, PROCLAMATION PRESENTED BY THE CITY COUNCIL

TO THE 65TH HONOR TASK FORCE, 65TH VETERANS, NEW YORK STATE ASSEMBLYMAN,

ADAM CLAYTON POWELL IV, CHAIRMAN 65TH HONOR TASK FORCE, ANTHONY MELE'.

CHAIRMAN 65TH HONOR TASK FORCE, ANTHONY MELE'

NOV. 7. 2005, HONOR Y VALOR, PRESENTATION AT HARVARD UNIVERSITY,

BOSTON, MASSSPEAKERS, ANTHONY MELE, CHAIRMAN, 65TH HONOR TASK

FORCE VIVIEAN ROMAN, LATINA WOMEN IN THE MILITARY, TONY MOLINA,

FIRST LATINO PURPLE HEART RECIPIENT OF THE VIETNAM WAR


_____________________________________________________________________________________________________________________

Carlos Manuel Gonzalez Cottes

Nov. 20, 1927 - April 11, 2006

Carlos Manuel Gonzalez Cottes, 78, of Sierra Vista, Ariz, passed away Tuesday, April 11, 2006, at the Sierra Vista Regional Health Center. He had been an area resident for seven years.

Carlos was born Nov. 20, 1927, in Canovanas, Puerto Rico, to Gerardo and Maria Cottes Gonzalez. Carlos served in the U.S. Army, where he retired after 20 years, in 1967 as a Staff Sergeant. He was very proud to serve his country during World War II, Korea and Vietnam. Carlos loved to watch CNN. His greatest pleasure was listening to music and dancing or telling jokes. Toward the end of his life, what he enjoyed the most was collecting pictures of his family, especially his grandkids and great grandkids.

Carlos is survived by his wife of 58years, Hilda E. Gonzalez, seven children; Raquel, Nydia, Elena, Carlos, Manuel, Myriam and Clara Gonzalez, his sister, Amalia Gonzalez, ten grandchildren; Manuel Jr., Marie, David, Nicholas, Nelson, Tanisha, Raquel, Charles, Bianca and Daniela, and four great grandchildren; Gabriel, Taina, Sophia and JJ.

A time of visitation will be held from 10 a.m. to noon on Thursday, April 13, 2006, at the Hatfield Funeral Home, 830 S. Highway 92, Sierra Vista. Funeral services will begin at noon. Interment with military honors will be held at 10 a.m. on Friday, April 14, 2006, at the Southern Arizona Veterans Memorial Cemetery.

Arrangements are by the Hatfield Funeral Home.

Sierra Vista Herald - Editorial, Advertising, Business and Circulation offices: 102 Fab Avenue, Sierra Vista AZ 85635 and 12 Main Street, Bisbee AZ 85603

-------------------------------------------------------------------------------------------------------------------------------------------------------

First Sergeant Bobby Mendez
<![if !vml]><![endif]>

Sept 18, 1967 — April 27, 2006

First Sgt. Bobby Mendez, 38, was killed in Baghdad on Thursday, April 27, 2006, while serving with the 4th Infantry Division out of Fort Hood, Texas.

Bobby was born Sept. 18, 1967, in Brooklyn, N.Y., to Gladys Arce and Amado Mendez. He served in the U.S. Army for 19 years.
Bobby married Jennifer on Oct. 16, 1989, in Brooklyn, N.Y.

After traveling extensively with the Army, including a tour in Desert Storm and Korea, the Mendez family transferred to Fort Huachuca, Ariz., in June 1997 and have established a home in Arizona ever since.

While stationed at Fort Huachuca, Bobby was an instructor at the NCO Academy and was active in the community by coaching little league baseball and soccer. And, staying true to his roots, he was an avid Yankees and Giants fan.

Bobby was assigned to 4th ID in Fort Hood, Texas, in January 2002 and deployed to Iraq in April 2003. After safely returning to Fort Hood in March 2004, Bobby was again deployed to Operation Iraqi Freedom in November 2005 where he was killed when his convoy intercepted an improvised explosive device (IED).

Bobby is survived by his wife of 16 years, Jennifer; three children, Thyiena, 13, Quentin, 12 and Chyanne, 7; parents Gladys Arce and Amado Mendez (Noemi); sisters Ivette and Joan; brothers Steven (Theresa) and New York Police Officer Richard (Miriam); nieces Melissa, Victoria and Daphne and nephews Casey and James.

Bobby died doing what he loved. He was a soldier to his core. He served his country with pride and honor and was the personification of the Army Core Values. Bobby was funny, loyal and extremely intelligent. His family and friends are very proud of him and his service to his country. No one was more professional than First Sgt. Mendez. He was and will always be a non-commissioned officer, a leader of soldiers. He had so much life left to live, this is a monumental loss to the family and the US Army and he will be greatly missed.

The viewing will be held Sunday, May 7, 2006, from 4 to 7 p.m. at Hatfield Funeral Home, 830 S. Highway 92. Funeral Services will be held May 8, 2006, at 9 a.m. at Main Post Chapel on Fort Huachuca, Ariz. Military honors will follow at Post Cemetery on Fort Huachuca.

Arrangements are with Hatfield Funeral Home.

____________________________________________________________________________________________________________________________

Francisco Alicea (President, 65th Retired Association) receives a

Proclamation from Anthony Mele (Chairman, 65th Honor Task Force)

signed by the NYC Council on the occasion of their 100th Anniversary.

BG Antonio Rodriquez-Balinas, highly decorated 65th Veteran looks on.

May 07, 2006

BG Antonio Rodriquez-Balinas awards Mr. Anthony Mele, Chairman 65th Honor Task
Force with a plaque in recognition of his leadership and dedication for organizing

ceremonies honoring the 65th at Arlington National Cemetery, El Morro, San Juan,

Puerto Rico and Fort Logan National Cemetery, during the 50th Anniversary of the

Korean War. May 7, 2006

Members of the 65th Retired Association in Puerto Rico. Jump Master Velgarra

68 years old (camoflouge) just returned from a parachute jump in St. Thomas.

______________________________________________________________________________________________________

October 13, 2006

Major (Ret.) Luis Raul Rodriguez passed away this October 11, 2006, he is survived by his wife Nereida, two daughters, and a son. Major (Ret.) Luis Raul Rodriguez served with the 65th Infantry Regiment in Company F during the Korean War.

The viewing will be held today at the Hillcrest Memorial Park Cemetery today October 13, 2006.

Hillcrest Memorial Park Cemetery

6411 Parker Avenue

West Palm Beach, FL 33405

(561) 582-4131

This information was provided by Ruben R. Laureano Diaz.

______________________________________________________________________________________________________________________

This is a recent photograph of Bronze Star recipient Angel D. Normandia Cintron with his great grandson Jose Andres. The photograph was taken at Puerto Nuevo Beach, Vega Baja. A few days ago one of his grandsons, Juan B. Cosme Normandia, was ascended to lieutenant colonel, his family is very proud of him too. Angel D. Normandia Cintron will be 80 years on November 5, 2006. He lives in Miraflores, Bayamón. He is still strong and active, as you can see in the photo. To see Angel D. Normandia Cintron's Bronze Star citation click on the following link. The photograph and information was provided to this site by his son Angel D. Normandia Ayala.

_______________________________________________________________________________________________________________________

Thursday, May 24, 2007

65th U.S. Army Regiment is remembered

Puerto Rican unit in Korean War
By Priyanka Dayal TELEGRAM & GAZETTE STAFF

At a reception yesterday at the U.S. Presidential Museum, the

Rev. Jose S. Perez of Worcester, from left, Col. Gilbert Villahermosa

and veteran Myles E. Geer talk as they look over a painting,

"The Borinqueneers," which depicts the Puerto Rican 65th Regiment

fighting during the Korean War. (T&G Staff/STEVE LANAVA)

WORCESTER— Scanning the faded black-and-white prints sitting on the table, Myles E. Geer, a veteran of World War II and the Korean War, paused and pointed to a photo of one soldier.

"He was killed," he said.

Mr. Geer scanned the photos again. "But we had fun, too," he said, pointing to two men wrestling with a football near a leafy tree.

Mr. Geer served in the Puerto Rican 65th U.S. Army Infantry Regiment, an all-volunteer unit that was among the biggest, best trained and most successful regiments to fight in the Korean War.

While he was in Korea in 1953, he took many photographs. Yesterday, his photographs were seen by dozens of people who came to honor the regiment in anticipation of the completion this year of the Korean War Memorial on Worcester Central Boulevard.

"It's about time the 65th regiment got recognized for what they did," said Mr. Geer, who lives in Yukon, Mo. "The boys of the 65th may be the best that the Army ever had. … If there was danger, they would be by your side all the time. There was never a task that was too hard for them."

The 65th Regiment began as the Puerto Rico Battalion of Volunteer Infantry in 1899. It 1908, the unit became part of the U.S. Army. Its soldiers, who made up one of very few ethnically based regiments in the Army, have fought in World War I, World War II and the Korean War.

To Col. Gilbert Villahermosa, inspector general of the Massachusetts Army National Guard, the history of the 65th Regiment reflects America. The colonel, who has spent 27 years in the Army in combat and later as a historian, has written a book about the regiment's service in Korea in the early 1950s.

"Our Army has always been tremendously ethnically diverse," he said. "(American) history is more than just the history of whites. It's the history of the Irish and the Italians. It's been the history of Puerto Ricans … African Americans … Asians."

Col. Villahermosa's interest in the 65th is natural — his father served in the regiment. He called his father "an indigenous peasant" who lived the American dream and succeeded.

"The (65th) Regiment fought brilliantly," he said, and their dramatic and heroic story should be told.

The Rev. Jose S. Perez of Worcester, who attended yesterday's reception, also served in the 65th Regiment. He had few words to say. He was just thankful.

"This means a lot," Rev. Perez said. "It means a lot of people remember the 65th."

He recalled his days in Korea as cold and long. "We had no rest," he said. And when soldiers did sleep, they were often burrowed in foxholes.

Because it was sandwiched between World War II and the Vietnam war, two seismic conflicts that defined the 20th century, the Korean War is often called "The Forgotten War." The Korean War Memorial was erected to ensure that veterans and soldiers killed in Korea are not forgotten.

The first part of the memorial, the Wall of Honor, is complete. The Walkway of Honor, which will include a section devoted to the 65th Regiment, will be completed before the dedication ceremony planned for Oct. 20. Organizers are hoping more than 1,500 people will attend.

A documentary about the 65th Regiment is scheduled to air on PBS on Aug. 1.

Scott W. Geer, a captain in the Massachusetts Army National Guard and son of the veteran Mr. Geer, said yesterday's event and the Korean War memorial will help people learn about the 65th Regiment's service.

"When you talk about war, when you talk about veterans, usually Korea is the last one to come up," he said. "I think that's why he talks more about it."

The older Mr. Geer's military service had a profound impact on his son, who also enlisted in the armed services.

"I'm very proud of my father's service," the younger Mr. Geer said. "My dad's my hero."

© 2007 Worcester Telegram & Gazette Corp.

_____________________________________________

_______________________________________________________________________________________________

Pvt2 Eufemio Santiago

Pvt.2 Eufemio Santiago - circa 1952

Pvt2 Eufemio Santiago served as a radioman in Company E, 65th Infantry Regiment in 1952. This photograph was submitted to this site by his proud son, David Santiago. Today July 11, 2007 Eufemio is 77 years young, we wish him a Happy Birthday.

______________________________________________________________________________________________

Corporal Cristobal Melendez Claudio

Cpl. Cristobal Melendez Claudio - circa 1950 - 1951

Sgt Cristobal Melendez Claudio and his wife

Josephine - Central Park - 1957

Cristobal Melendez with wife Josephine and granddaughters Maggie and Emilly

_______________________________________________________________

SFC Fernando Diaz

Recent photographs of retired Master Sergeant Fernando Diaz, Master Sergeant Fernando Diaz (retired) is a Silver Star recipient, Fernando received the Silver Star for valor while serving with the Headquarters and Headquarters Company of the 65th Infantry Regiment on Dec 18, 1950. To read the citation for SFC Fernando Diaz's Silver Star go to Silver Star. MSgt Fernando Diaz (retired) would like to contact former friends who served with him, to contact him write to Fernando Diaz, Box 728, Cidra, Puerto Rico 00739 or e-mail his son at [email protected] . His proud son Fernando Diaz Jr. who is a Vietnam Veteran and served with the 173rd Airborne submitted this information to this site.

Fernando Diaz and his wife

_______________________________________________________________________________

SFC James De Gruttola Retired

Sgt James De Gruttola (right) and Capt. Officer -

Circa early 1954

Sgt James De Gruttola's Korean War Memoirs

James De Gruttola was born on December 1, 1917, in New York City's Bronx. Drafted into the Army at the beginning of World War II, he soon found himself in Britain, training and preparing to participate in thecoming Allied Invasion of Europe. Despite the dangers ahead, James found that he enjoyed the challenges of Army life.

On June 6, 1944, D-Day, James landed on Utah Beach in Normandy and contributed his best efforts to the success of the American Forces on that long historic day. He subsequently fought all across Europe, and was at the Battle of the Bulge when the Germans' last great thrust was finally stopped near Bastogne.In the course of these epic events, James met and fell in love with Renée, a Belgian girl from Liège. After the war, he helped with the repatriation of our vehicles and equipment in Germany until he was eventually sent home and demobilized.

Back in the Bronx, James worked hard and saved his money until he had enough to return to Belgium and marry the girl he loved. After their marriage, James re-enlisted in the Army and managed initially to be assigned to graves registration duties in Belgium. In 1953, after a tour in the US, he was assigned to the 65th Infantry Regiment in Korea as a member of the first group of non- Puerto Ricans to be integrated into that famed regiment. James always considered the 65th as something special, and was proud to have served his country in it. After serving additional tours in the US and France, James retired from the Army in 1966. James De Gruttola died in Brussels on December 22, 2004 at the age of 87. His ashes and those of Renée were taken to Arlington Cemetery in October 2005 for his last "military posting".

__________________________________________________________________________
Silver Star recipient 1Lt. Myrom Dushkin passed away yesterday, 7 November, 2007, 1Lt.Myrom Dushkin served with the 65th Infantry Regiment in the Heavy Tank Company. On June 22, 1951 1Lt. Myrom Dushkin received the Silver Star for action on April 19, 1951. This page was notified of Myrom Dushkin's passing by his son Mark Dushkin.
1Lt. Myrom Dushkin - circa 1951
__________________________________________________________________________________________________________________
PFC Miguel Montes Ortiz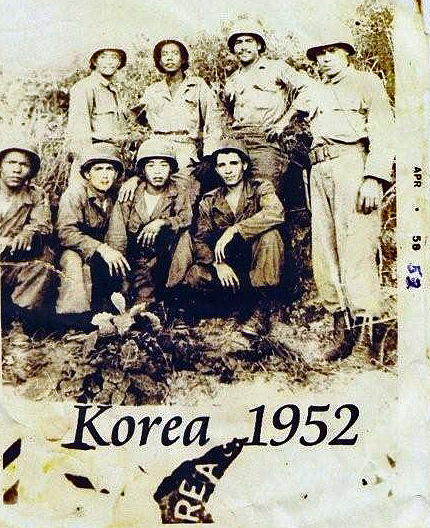 PFC Miguel Montes Ortiz (extreme right crouching down)
_______________________________________________________________________________________________________________________
La historia de un soldado
Lo que sigue es parte de las cosas importantes que me ocurrieron a mí en Corea mientras que formé parte de los de la 65th Infantería, 3rd División, en la compañía L al principio de sept. 1952. Mi primera experiencia en batalla fue entre los morteros y el fuego de artillería enemiga, alcanzamos un lugar en donde tuvimos que hacer trincheras delante de la colina Kelly. Entre la colina Kelly y nuestra trinchera existió lo qué era conocida como "tierra de nadie". Nos fuimos allí para hacer patrulla de reconocimiento, cada noche, encontraríamos a patrullas enemigas y tendríamos que ocasionalmente enganchar en combate. Había muchas patrullas mientras estaba presente allí, más de veinte en una noche. La Tropa B estaba en las trincheras enemigas en puesto avanzado de la colina Kelly' pero fue atacada por el enemigo y muchos fueron tomados presos. Los otros que podían escapar pasaron por nuestro O/P (compañía L) y relataron cómo fueron atacados por un enemigo que excedió en número más que el del Puertorriqueño allí. Eso era cuando la compañía L tuvo que asumir el control. Pasado algunos días, recibimos la orden para atacar al enemigo y para intentar tomar el puesto avanzado de Kelly del enemigo. Era el 24 de septiembre de 1952 que golpeamos las trincheras en la base de la montaña, después de que cruce el río bajo ataque enemigo en la falda de la montaña. La orden fue dada para perforar con las bayonetas y para subir la montaña. Era temprano por la mañana y había muchas nubes en el cielo y el frío se levantó encima de la montaña. Sin mucho problema fue hecho, pero cuando estábamos en el centro de la colina de Kelly, el enemigo salió de los túneles detrás de nosotros y en todos los lados nos rodeó y tuvimos que abrir fuego y luchar hombro con hombro con el enemigo usando nuestras bayonetas. Mientras que continuamos yendo encima de la montaña, una lluvia de balas (Bellgone) de una ametralladora china pequeña, me hirió. Una bala me alcanzó en la palma de mi mano pero continué hacia adelante y continuaron lanzando muchas granadas que rodarían abajo y estallarían en todos los lados. Una de esas granadas, estalló en mi pierna derecha, rompió mi bota y las medias que tenía puesto, que eran tres pares. Aun cuando estuve lastimado tres veces, tuve que continuar yendo para arriba, las heridas estaban calientes y frescas, así que no lastimaron mucho, casi alcancé la tapa de la montaña cerca de un llano y nos atacaron otra vez con la artillería pesada. Ese momento, en el cual nos contrataron a hombre servir combate con las bayonetas, un mortero pulsó que rompió la culata de mi rifle y agarró un pedazo de mi brazo que partió los nervios de ese brazo. El otro tiró francamente me golpeó en la nalga izquierda. Los que estaban alrededor de mí, los hicieron saltar en pedazos, mi teniente murió con muchos de mis otros camaradas y también mucha parte del enemigo. No tenía mi rifle. Perdía mucha sangre y también perdía el sentido. Me mordía para mantenerme despierto; Até una media a mi brazo y continué rodando abajo de la montaña. En la falda de la montaña, no podía cruzar el río pero en el otro lado un camarada que tenía una ametralladora colocada, gritaba a mí. Le dije que era Montes de la Tropa L; él cruzó el río y me trajo al otro lado. Mientras que él me ayudó con mis heridas y bajo un árbol de Ceiba sin hojas, un mortero cayó y uno de las ramas pequeñas lo penetró con una herida superficial en la parte más inferior de su cuerpo. Aproximadamente 15 minutos, un helicóptero de rescate llegó y me movieron, ése era el 24 de septiembre, yo perdí el conocimiento y desperté en Seúl, Corea en un hospital el 29 de septiembre, ellos me pasaron más adelante a Osaka, Japón. Muchas operaciones, muchos hospitales, pero agradezco a Dios que estoy vivo para recordar las batallas que he encontrado. En una nota final, quisiera indicar que en toda fe, mi compañía y los soldados valientes que los componen dieron a si mismo lo máximo para el país y para la libertad. Dimos todos con orgullo en el servicio del ejército de los Estados Unidos. Mucho Puertorriqueños murieron cuando le hicieron frente valerosamente al enemigo y todas las heridas recibidas fueron confrontadas por amor. ¡Que Dios bendiga los soldados valerosos de Borinquén!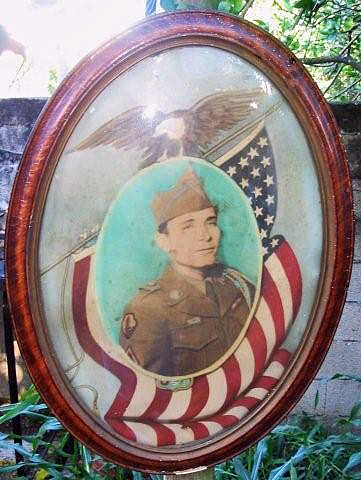 PFC Miguel Montes Ortiz
The Story of a soldier
The following is part of important things that occurred to me in Korea when I served with the 65th Infantry, 3rd Division, in Company L at the beginning of Sept. 1952. In my first experience in battle, the Company was exposed to mortar and enemy artillery fire, we reached a place where we had to make trenches in front of Kelly Hill. Between Kelly Hill and our trenches existed what was known as "No Man's Land". We left there to make a reconnaissance patrol, every night, at times we would find enemy patrols and would have to engage in combat. There were many night patrols while I was present there, more than twenty. B Company was in the enemy trenches at Kelly Hills' Outpost but was attacked by the enemy and many were taken prisoners. The others who were able to escape passed by our O/P (Company L) and related how they were attacked by an enemy that outnumbered the Puerto Ricans there. That was when Company L had to take over. In a few days we received the order to attack the enemy and try to take the Kelly Outpost from the enemy. It was on September 24, 1952 that we hit the trenches in the base of the mountain, after crossing the river under enemy attack in the skirt of the mountain. The order was given to "fix bayonets" and climb the mountain. It was early in the morning and there was many clouds in the sky and the cold rose up the mountain. Without much problem, it was done, but when we were in the center of Kelly Hill, the enemy came out of tunnels behind us and on all sides surrounded us and we had to open fire and fight hand to hand with the enemy using our bayonets. While we continued going up the mountain, I was wounded by a shower of (Bellgone) a small Chinese machine gun . A bullet hit me in the palm of my hand but I continued onward and they continued to throw many grenades that would roll down and explode on all sides. One of those grenades, exploded on my right leg, broke the boot and socks I had on, which were three pairs. Even though I was hurt three times, I had to continue going up, the wounds were hot and fresh, so they didn't hurt much, I almost reached the top of the mountain near a level clearing and we were attacked again with heavy artillery. That moment, in which we were engaged in hand to hand combat with bayonets, a mortar struck which broke the butt of my rifle, tore a chunk of my arm, and tore the nerves of that arm. The other shot frankly hit me in the left buttocks. Those who were around me blew up in pieces, my lieutenant died with many of my other comrades and also much part of the enemy. I didn't have my rifle. I was losing much blood and was also losing consciousness. I would bite myself to keep awake; I tied a sock to my arm and continued rolling down the mountain. In the skirt of the mountain, I couldn't cross the river but on the other side a comrade who had a stationed machine gun, yelled to me. I told him I was Montes of L Company; he crossed the river and brought me to the other side. While he helped me with my wounds, under a branch of a Ceiba tree without leaves, a mortar fell and one of the small branches struck him with a superficial wound in the lower part of his body. At about 15 minutes, a rescue helicopter arrived and I was moved in. that was the 24 of September, I lost consciousness and woke up in Seoul, Korea in a hospital on September 29, later they passed me on to Osaka, Japan. Many operations, many hospitals, but thank God I'm alive to remember the battles that I have encountered. On a final note, I would like to state that in all faith my company and the brave soldiers that compose them gave their maximum selves for their country and for liberty. We gave all with pride in the service of the United States Army in which we served. Many Puerto Ricans died when faced by the enemy valiantly and all wounds received were for love of country. God Bless the Valiant Soldiers of Borinquen.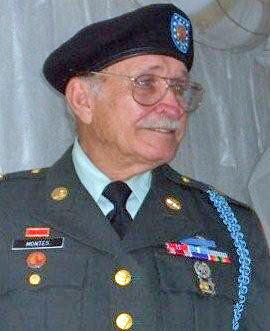 PFC Miguel Montes Ortiz
This account and photographs were submitted to this site by Ana Montes, the proud daughter of PFC Miguel Montes Ortiz.
_____________________________________________________________________________________________________________________
MSgt. Juan Rabelo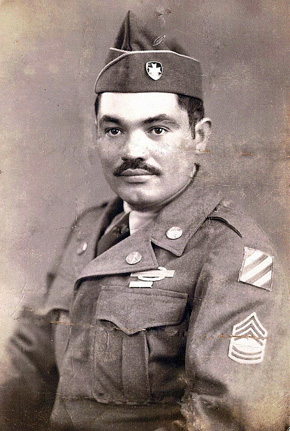 MSgt. Juan Rabelo, entered the service in 1939 when he was 19. He was born in Cayey, Puerto Rico. He was in World War II and in Korea, I believe in 1952. In 1955, he was stationed in Fort Benning, Georgia; from 1956 until 1958, he was at Fort Bragg, North Carolina where he retired as an E8 Master Sergeant. We both entered the University of Puerto Rico in 1960 and graduated, cap and gown in 1964. His BA was in Business Administration.
He was with the 65th Infantry Regiment and very proud to serve in the US Army. His rank in Korea was sergeant. I remember as if it were yesterday, I was seven, when the troops left Henry Barracks with an escort of motorcycles and lights flashing. The soldiers waved to the mothers, wives and children. It was an ominous day. The sky turned dark and there was total silence except for the soft crying of the loved ones left behind. The mothers, wives and children did not know where Korea was located. I used to hear, it was in the other side of the world. Something that my mother did and perhaps other moms and wives did, is that they went to the town of Cayey, we did not live in town, and they walked to check some lists to check the "bajas", the fallen, KIA. Our mother did not tell us why she went to town every day. Later on in life, we found out what "bajas" was. My father's weapon was a mortar. Later on in life, doctors found out that the prolonged firing of this weapon impaired his hearing.
This morning I called him and wanted to see how much he remembered of the Korean War. He remembered a lot. His long-term memory is good. It was amazing. Papi, we are so proud of you!!!!!
He is eighty-nine; He always talks with such pride of his service in Korea.
Eva
Fischer, the proud daughter of MSgt. Juan Rabelo, submitted this anecdote and photos to this site.
__________________________________________________________________________________________________
Cpl. Miguel Cintron Marquez
En 1950, estando en Korea del Sur (Pusan) con el Regimiento 65 de Infanteria, sali de pase a la ciudad desde un barco transporte que nos llevaria a Korea del Norte. Yo llevaba puesto un "field jacket"y una gorra de invierno. Llevaba tambien una carabina. Yendo de regreso al barco una hora despues, senti un tremendo golpe en la cabeza y cai inconsciente al suelo. Desperte en un hospital del ejercito donde me informaron que los "MPs"me habian recogido del pavimento despojado del "jacket", la gorra y la carabina.
Me retuvieron unos dias en el hospital. Mientras tanto, el barco partio hacia Korea del Norte, por lo tanto, fui enviado a un "Collecting Station"en espera de ser reintegrado a mi compania.
Estando ahi en espera, escribi a mi padre en PR informandole lo sucedido. Me sorprendio su respuesta contandome como me "habian llorado"cuando leyeron en el periodico El Mundo que "Miguel A. Cintron habia muerto en accion". Se trato de otro soldado del mismo nombre y apellido que yo. Eventualmente, me reintegraron a mi compania en Korea del Norte.
___________________________________________________________
Pedro Jose Diaz
My name is Carolin Gumbel and I am searching for my paternal grandfather. As far as we know, he was a Puerto Rican Soldier who was stationed in Germany until 1945. His name was Pedro Jose Diaz at least that is all we know. As I read about the Film about the 65th infantry Regiment, I began to think that he could have been part of it, since they were stationed in Mannheim/Heidelberg and they left Germany in late 1945. My father was born on 22 April 1946 to Irmgard Emma Kurz. In addition, he has the same name as his father "Peter Josef". My grandfather wrote several notes to my grandmother, but she never replied, he even wanted her to come with him, but she did not want to leave her family. She died when my father was 18, only then did he get to know that his real father was a Puerto Rican Soldier for the US Army. In 1969, my father went to the USA for 3 years visiting his Uncle Erik Kurz who still remembered Pedro Jose. He did not have much information, only that which I have right now. The last address we have is a post office Box in San Juan. According to my father, Pedro could have had blond hair, but Erik was not that sure of his hair color. Erik died as well long ago and thus we cannot get more information. Every chance on getting more information died with him, at least until now. I hope someone can help me, my father, and my brother Lars, find out a little bit more about my grandfather and his children, if he has more children back in the USA. If anyone has any information on Pedro Jose Diaz please contact me at [email protected]
Thank you.
Carolin Gumbel
_________________________________________________________________________________
Captain Emilio Ramirez Kohl
CAPT EMILIO RAMIREZ (SANTURCE, P.R.) (RIGHT) MEDICAL CO,
65TH INF REGT, 3RD U.S. INF DIV, IS CONGRATULATED BY
LT COL THOMAS J GENDRON (COHOES, N.Y.) CO 3RD BN,
65TH INF REGT, AFTER BEING AWARDED THE BRONZE STAR
MEDAL DURING CEREMIONIES HELD AT REGT HQS, KOREA. -
U.S. ARMY PHOTO BY PFC PHILIP PERRONE (SK) 3RD SIG CO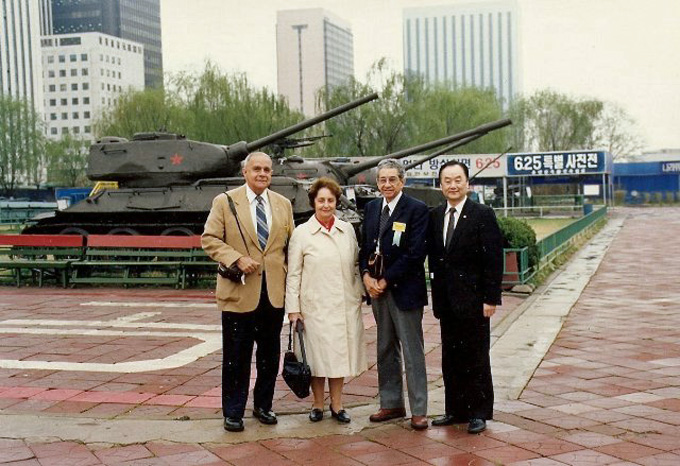 Left to right - Dr. Hector Guitierrez - Tina Guetg de Ramirez - Emilio Ramirez Kohl -
Korean representative - on a trip to Korea by veterans in 1989.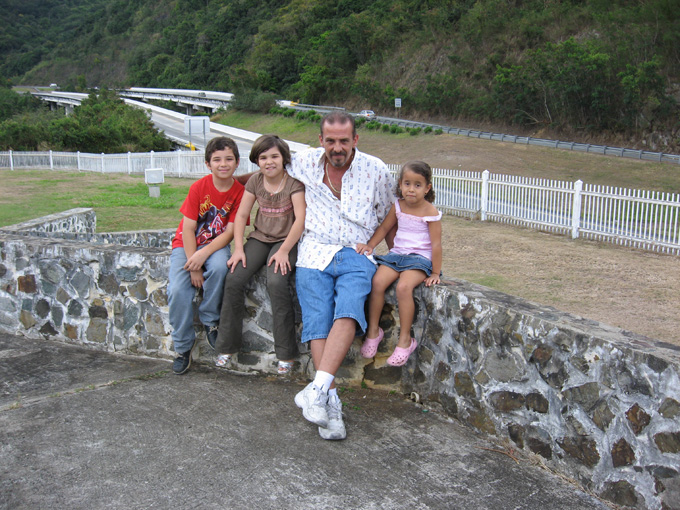 Eduardo Ramirez with three of his five children, this photo and the photos in the slide
show were submitted to this site by Eduardo the son of Captain Emilio Ramirez Kohl.
___________________________________________________________________________________
SFC James E. McCarthy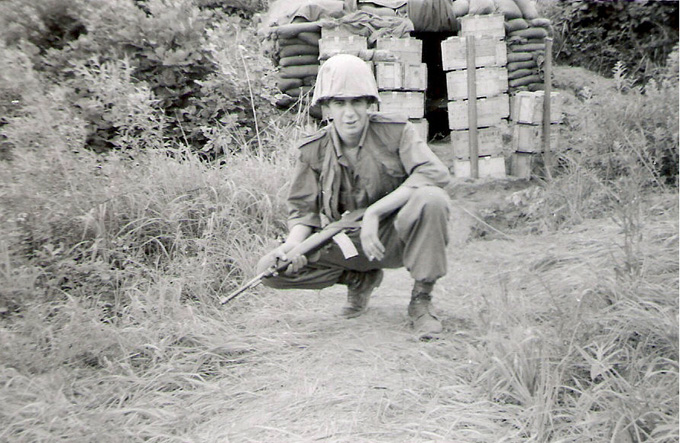 SFC James E. McCarthy - Outpost Harry - Korea - 1953
SFC James E. McCarthy served with the 65th Infantry Regiment, 3rd Infantry Division in Korea. SFC McCarthy served with Companies "B", "D", and Headquarters Company of the First Battalion. He saw combat in the KumwaValley, Outpost Harry, Iron Triangle, and the Kumsong River Valley. Mr McCarthy is a member of the Korean War Veterans of America, Chapter 256 : V.F.W. Post 9021.
Mr. McCarthy has been married to his wife Florence for fifty-seven years; they have six children, sixteen grandchildren, one great grandson. The McCarthy's raised their family in Sterling Heights, Michigan.
SFC James E. McCarthy was the recipient of the following awards and medals.
1. Combat Infantryman Badge
3. Army Good Conduct Medal
4. National Defense Medal
5. Korean Service Medal
6. Un Korean Service Medal
7. ROK War Service Medal
8. United Nations Medal
9. Korean Presidential Unit Citation Medal
10. US Presidential Unit Citation Medal with two Oak Leaf Clusters
11. Navy Medal
12. Greek Bravery Medal
The bio and photos were submitted to this site by James E. McCarthy.
_______________________________________________________________________________________________________________________________
Jose Ernesto Cordero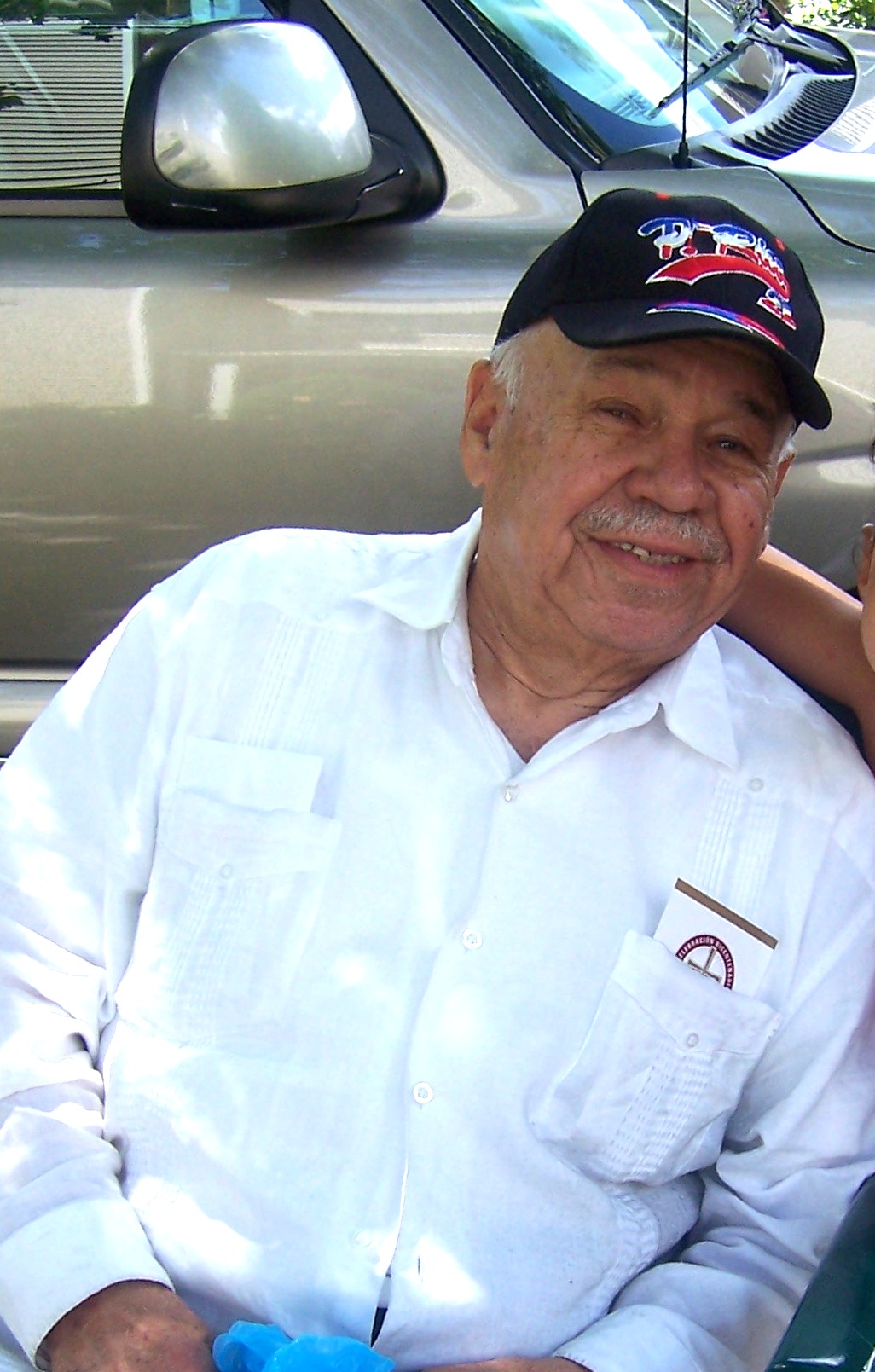 The Cordero Family regretfully informs our Friends and Family of the unexpected passing of our beloved Uncle and Brother Jose Ernesto Cordero on September 11, 2008.
____________________________________________________________________________________________________________________________________________________________________________
Pilot held as POW after bailing out of crippled plane
Victor Hernandez shows the secret POW camp newsletter he helped write.
(Pam Harbaugh, FLORIDA TODAY)
Born and raised in a sugar mill hamlet near Ponce, Puerto Rico, Victor Manuel Hernandez of Viera was one of a dozen Puerto Rican fighter pilots in the U.S Army Air Corps during World War II.
An engineering student at Louisiana State University, he was playing touch football with fraternity brothers on Dec 7, 1941, when he learned about the bombing of Pearl Harbor. "I didn't know about Pearl Harbor," he said. "I knew about the war in
Europe."
He applied for the aviation cadet program for the Army Air Corps, which later became the Air Force, and qualified to fly P -47 fighters.
After flying more than 20 missions out of England with the 353rd Fighter Group, he was switched to P-51's. That plane was more agile and had "longer legs," enabling it to escort bombers into Germany. He had flown 39 missions when on Dec. 4, 1944, after escorting a bomber from Frankfurt, he discovered his plane had been hit.
"I heard a guy on the radio saying, "He's going down smoking," he said.
He bailed out of the plane, hitting the tail of the airplane. As he got closer to the ground, he heard people shooting at him. When he landed, he was met by a group of women with pitchforks and old men who took him to an interrogation center. After that, he was sent to a prisoner of war camp in Barthe, Germany. He stayed there for five months until the end of the war.
Hernandez said that during the war, people put fear aside.
"Ninety-nine percent of us were ready to go when told," he said. "That doesn't mean there wasn't a certain amount of fear. You overcame the fear and did the best you could."
Still, when he returned to Ponce after the war, his family and friends were jubilant.
Pam Harbaugh, FLORIDA TODAY
November 11, 2008
_

________________________________________________________________________________________________________________________________________________________________________________________________________________________________________________________________________________
Letter from former Marine Dave Albert
I was a USMC Reservist called to active duty 28 August 1950. I arrived in Korea with the first and second replacement draft 10 November 1950. I volunteered to be a member of Anglico (Air Naval Gunfire Company) First Signal Battalion. I was at the Chosin with H & S Co, 2dBn, 5th Marine Regiment Naval Gunfire Spot Team. The Army did not have Naval Gunfire Support teams, I was assigned to the Third Army Division, X Corps and specifcally to the 65th RCT to cover the Hungnam fefensive action and evacuation. My team was one of the last to leave and were on the rail of the USNS Freeman when the port was demolished. A great Christmas Eve prestent for us. Major General Edward M. Almond, Commanding X Corps commended the ANGLICO Company on 28 December 1950. In later years I had conversed by telephone and correspondence with then Colonel W.W. Harris. Who had written, and I quote "I am well aware of what you and your comrades of the Naval Gunfire team did for us - only time has caused a slip in memory but I vividly recall that your support was the difference between life and death for some of us." I have the letter and could send a facsimile. In telephone conversation I was led to believe that , now General Harris, was writing up citations for our team. To this date, after many inquiries nothing has materialized consequently my writing to see if anyone remembers our actions during this period. Perhaps there are members that recall and would step forth confirming our involvement during this period. Tried to keep this as simple as possible but upon inquiry could elaborate further. As I had mentioned earlier it was a privledge and a pleasure to have been attached to the 65th. They would have made a "Hell of a good regiment of Marines !!" Puerto Rico has many reasons to be proud of their services!
Semper Fi
Dave Albert -
[email protected]
_____________________________________________________________________________________________________________________________________________________________________________________________________________________________________
Sgt Jorge Luis Cebollero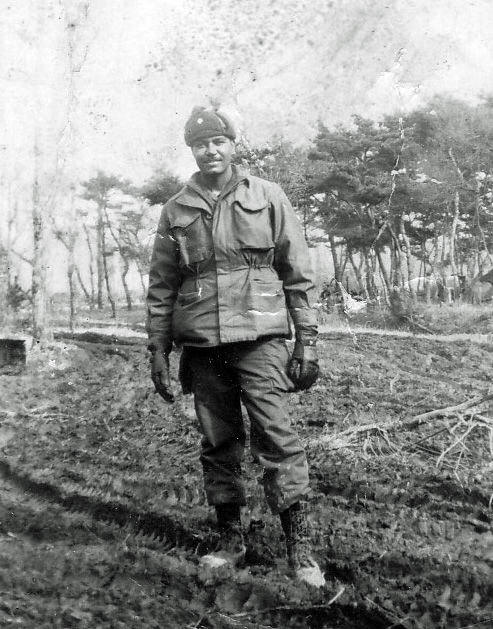 Slide Show
____________________________________________________________________________________________________________________________________________________________________________________________________________
SSGT Claudio Ortiz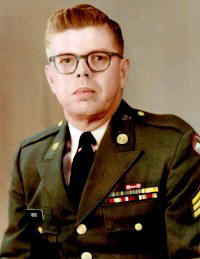 SSGT Claudio Ortiz was born in Barrio Guadiana, Naranjito, Puerto Rico on 6 December 1917. He served in active military service for 24 years, 11 months and 29 days. His military career started on 27 November 1938, when he joined the Puerto Rico National Guard's 65th Infantry Regiment. On 15 October 1940, the 65th Infantry Regiment was activated to serve with the US Army. Claudio served in the European Theater of Operations from 27 September 1944 to 23 May 1945, where he participated in the Battle of Germany as a rifleman. The all Puerto Rican 65th Infantry Regiment received battle participation credits for the Naples-Foggia, Rome-Arno, Central Europe, and Rhineland campaigns. From 3 January 1946, Claudio served in the Rodriguez Army Hospital as a medical technician. While working in the respiratory ward at the hospital he contracted tuberculosis. Due to his illness, he received a temporary disability retirement on 30 September 1950. After recuperating, Claudio reenlisted on 1 June 1955 and served in the 418th Medical Company (AMB), the 106th General Hospital (Japan), the 27th Surgical Hospital (Vietnam), and the HHB 5th Bn. 57th Arty FBT 4th USA. Claudio's Foreign Service included: ETO, USAREUR, and USARPAC. Claudio was honorably discharged in Ft. Bliss, Texas on 30 April 1970. His military awards and decorations included: the Combat Infantry Badge, the Bronze Star Medal, the Army Commendation Medal, the Good Conduct Medal (with silver clasp and two loops), the American Defense Medal, the American Campaign Medal, the European-African-Middle Eastern Campaign Medal with bronze star attachment, the World War II Victory Medal, the World War II Occupation Medal with Germany attachment, the National Defense Service Medal with 1st oak leaf cluster attachment, the Vietnam Service Medal with 4 bronze star attachments, the Republic of Vietnam Campaign Medal with attachment, the Republic of Vietnam Gallantry Cross Unit Citation, the Driver and Mechanic Badge with driver W bar, and the Expert Weapons Qualification Badge with rifle bar. Claudio passed away at 11:00 am on 18 November 2008. At his side, was his beloved wife of 64 years, Maria Teresa. Claudio was buried at the Holy Cross Catholic Cemetery in San Antonio, Texas. This information and photograph was provided by Claudio Ortiz's son Ramon E. Ortiz Juan.
______________________________________________________________________________________________________________________________________________________________________________
Col Enrique Manuel Benitez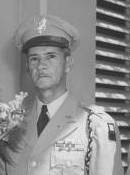 Colonel Enriquez M. Benitez was a commissioned second Lieutenant in the Puerto Rico Regiment of Infantry in 1917; he served in that Regiment during W.W.I. The Puerto Rico Regiment was reorganized in 1920, and was re-designated the 65th Infantry Regiment, U.S. Army ; Col Benitez continued his service in the 65th Infantry Regiment for many years and served during World War II. Col. Benitez was a cousin of Jaime Benitez Rexach who was the President of the University of Puerto Rico, he was also the original Commandant of the Latin American Training Center in 1946, which later became the School of the America's. On 25 December 1971 Col Enriquez M. Benitez died, he is buried in Arlington National Cemetery, Section 30, and Site 659-1. Col Benitez's two sons, Henry C. Benitez and Maurice Manuel Benitez followed him into the service; they are both graduates of West Point. Lt. Henry C. Benitez served in the US Army Air Corp during W.W.II, he was a co pilot on a B-17 Bomber that was shot down during a bombing mission near Falaise France on 13 Aug 1944, Lt Benitez was killed in action and he is buried at West Point. In 1953, a plaque was dedicated in his honor at the former Ramey US Air Force Base in Aguadilla, Puerto Rico. Col Benitez's son, Lt. Maurice Manuel Benitez graduated from West Point in 1949 and served in the US Air Force during the Korean War.
The Benitez family from Vieques, Puerto Rico has a proud history of military service to Puerto Rico and America during both war and peacetime. The following Benitez descendants have served with honor, this list is not complete. Master Sergeant Eric Hunt Benitez provided this information along with the photos to this site.
Corporal Carlos Benitez Ortiz WWI Born and buried in Vieques, Puerto Rico
Master Sergeant Eric Raymond Hunt (Benitez) A Co. 2nd Bn 108th Infantry 27th Infantry Brigade attached to 2nd Brigade 1st Infantry Division Iraq 2004, nephew of Jesus and Epifanio.
Specialist Billy-Joe Hunt (Benitez) Korea nephew of Jesus and Epifanio,
PFC Jesus Manuel Benitez Recon Platoon 503rd Parachute Infantry Regiment
173rd Airborne Brigade Vietnam, Operation Junction City II, Dak To, Pleiku 1966-1967
Airman First Class Epifanio Benitez Martinez Philippines (brother of Jesus),
Joshua Valcarcel (Benitez) US Navy 2006-2009 (nephew of Jesus and Epifanio)
Seaman Joseph Anthony Benitez US Navy 1990-1993 (son of Jesus).
Jaime M. Rosario – 65th Infantry Regiment – Korean WarTech 4
Manuel Antonio Benitez Rivera WWII born in Vieques, Puerto Rico. Buried at Puerto Rico National Cemetery
Private Astor L Benitez US Army WWII born in Vieques
Private Victor Manuel Basora-Benitez US Army WWII
Tech 4 Juan Reyes Benitez US Army World War II
_________________________________________________________________________________________________________________________________________________
Tribute to Mexican American
_________________________________________________________________________________________________________________________________________________________________________________________________________________________
SGT. (RET) MODESTO CARTAGENA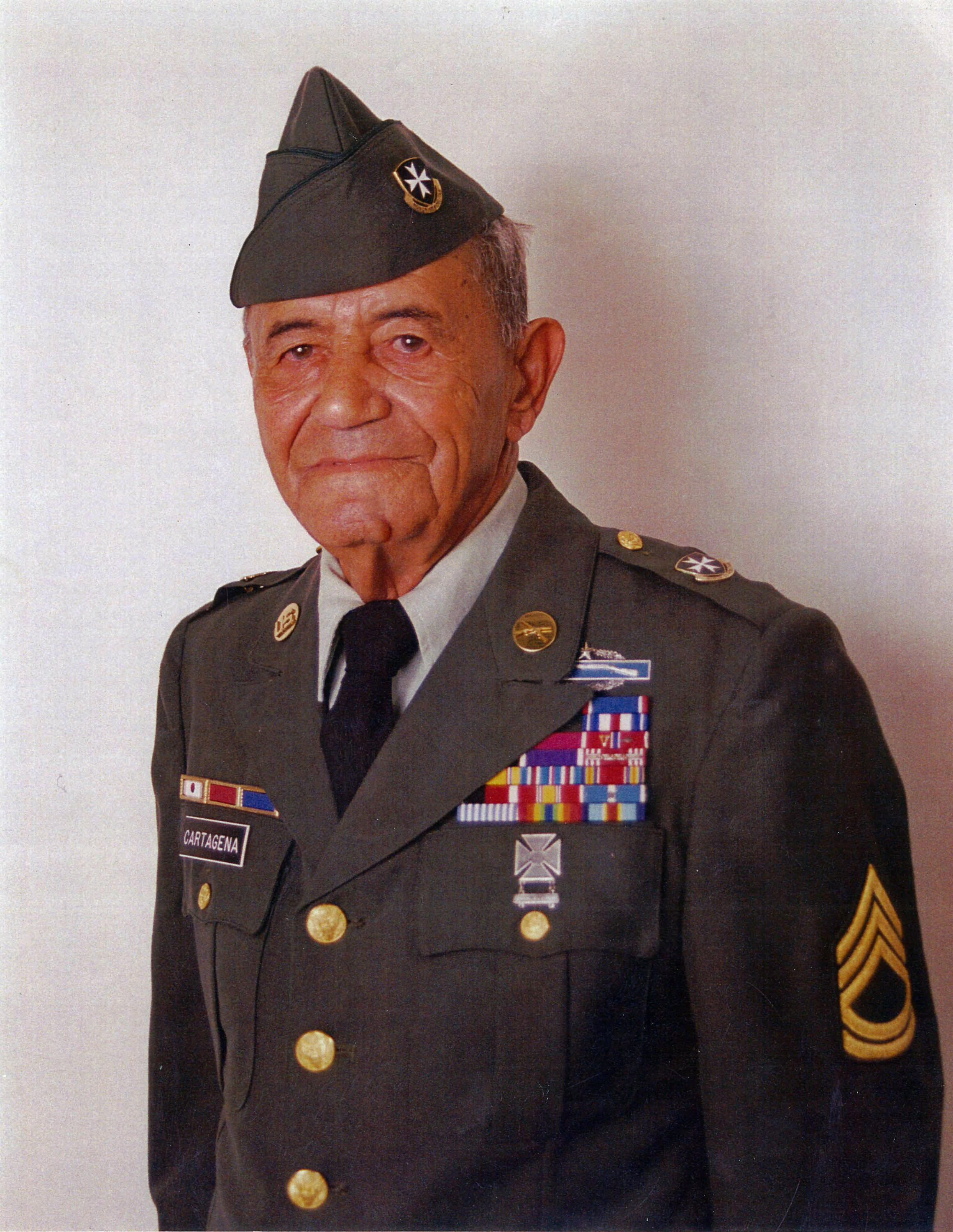 SGT (RET.) MODESTO CARTAGENA, Puerto Rico's most decorated soldier of the Korean War passed away on the 2 March 2010 in Puerto Rico. MODESTO CARTAGENA'S remains will be interred in a burial ceremony at the National Cemetery in Bayamon, Puerto Rico this Friday 5th of March, 2010. The Nieves family sends its condolences to the family and friends of Modesto Cartagena.
Modesto Cartagena is also the recipient of the following medals & awards
Combat Infantry Badge, Silver Star, Legion of Merit, Army Good Conduct Medal, American Defense Service Medal, American Campaign Medal, World War II Victory Medal, Army of Ocupation Medal, National Defense Service Medal, Korean Service Medal, United Nations Service Medal, Army Service Ribbon, Army Over Seas Service Ribbon, Presidential Unit Citation, Meritorious Unit Commendation, Republic of Korea Unit Citation, Rifle Marksmanship Badge, and the Military Medal of Honor of the Legislative Assembly of Puerto Rico.
________________________________________________________________________
In 2009, I was ho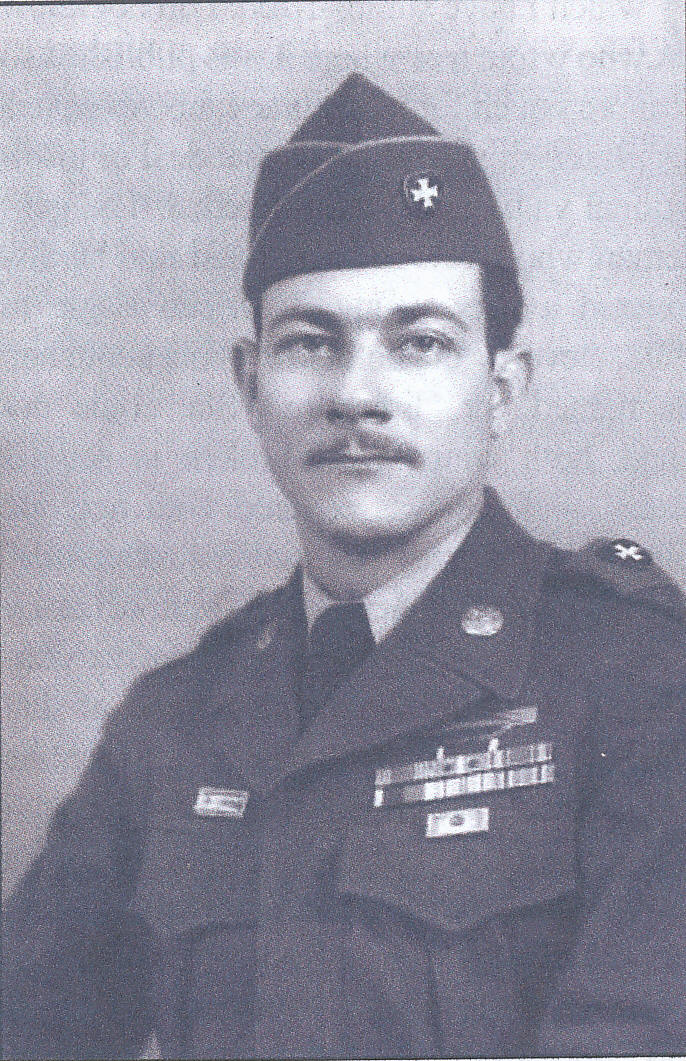 spitalized at the Bay Pines Veterans Hospital. Upon my discharge, I went to the National Cemetery office to get everything straightened out so, when my time is up, my wife won't have any problems. At the same time, I decided to check with the Graves Registration office about a good friend of mine with whom I lost contact two years earlier, LTC Luis A. Tavarez. Graves Registration had no record of him so I assumed he was alive. Since I am a veteran of the 65th Infantry Regiment, the "Borinqueneers," I receive bulletins written by Noemi Figueroa who is the producer of the documentary about the Borinqueneers. I took part in the production. The last bulletin I received displayed a picture of LTC Tavarez who died in 2007, the year I lost communication with him. The picture was taken when he was First Sergeant with K Company of the 65th Regiment. I mourn his loss deeply. LTC Tavarez introduced me to the Society of the 3rd Division. LTC Tavarez is also known as "Tingo". I don't know why, but his friends called him that when he was not in uniform. Tingo was born in San Juan, Puerto Rico. His father had served his military career for more than 30 years with the 65th, as did my father, Sgt Manuel Reyes. Our fathers were very close friends so my brothers and I knew Tingo from the time he was a teenager. When he was 18, he joined the National Guard of Puerto Rico (296th Infantry Regiment), because it was very hard to join the Army in the early 1940's. The Army had been reduced to a few thousand. Tingo became one of the best soldiers and a role model for others - a good leader, patriotic, and proud to wear the uniform of the U.S. Army. He rose to the rank of SFC and commanded the National Guard. It was a very sharp unit. Because of his success with his unit, he became friends with Colonel Juan Cesar Cordero, who was then Commander of the 296th Infantry. (Cordero was a veteran officer and Commander of the 3rd Battalion of the65th during W.W.II.)
In 1949, I too joined the National Guard where I ment Tingo again. I remember that, as a private, I was paid $30.00 every three months, but I loved it. Somtimes Tingo and I drilled for free during the week. Our company was composed of those living in the San Juan area, but Tavarez made the company the best in the 296th Regiment.
When the war broke out in Korea, we were called to active duty. At that time, the 296th, like the 65th, was under manned.The newspapers called for volunteers and 1,000 or more showed up. Most were reservists or veterans of W.W.II, and they filled the regiment. Then we went to training at Fort Tortuguero, Vega Baja, Puerto Rico. After that, we were part of the regiment stationed at Henry Barracks, Cayey, Puerto Rico. Two battalions were taken to Losey Army Airfield, Ponce, Puerto Rico, where we took advanced combat infantry training with live ammunition. We learned to fire all kinds of weapons, and the 296th became a very sharp unit. We were ready to go into combat with our brothers of the 65th Infantry Regiment, but the U.S. Army decided to leave the 296th in Puerto Rico to serve as replacements of the 65th.
Soon, Tingo and I went as replacements. We sailed on the same transport ship with about 500 National Guardsmen. We made a stop at Guantanamo Bay, Cuba, and another in Columbia, where we took on a battalion of Columbians. Then we went through the Panama Canal to Honolulu, Hawaii. From there we went to Japan where we were given our winter gear. We landed at Inchon, Korea, and proceeded to the 3rd Replacement Depot at Seoul. There Tavarez took command of the 500 - plus Puerto Ricans and was assigned to the 65th Infantry Regiment. Tavarez was in K Company; I was assigned to B Company of the 65th. We were separated for a while, but I learned he had made First Sergeant in K Company and had become a hero of the 65th.
Tingo was what we called in Puerto Rico a macho completo - a real man with no fear whatsoever. I was not surprised to learn that he was the recipient of two Bronze Stars for Meritorious Service and Valor, and the Purple Heart, he also got a Battlefield Commision to Second Lieutenant. One story I always liked happened when he raised the Puerto Rican flag affixed, and under a barrage of enemy fire, he raised it again so the Chinese would know the Puerto Ricans of the 65th were on that hill.
After Korea, Tingo went to France with the Regular Army. He married a French beauty and served many years in the Army before returning to Puerto Rico. There he again joined the Army National Guard and rose in rank to a Lieutenant Colonel. He became adjutant to the General of the Puerto Rican National Guard where we met again in a summer camp. Soon after, I made Sergeant. I gave Tingo a salute a usual, but to my surprise, he hugged me like old friends. He was still "Tingo": good, kind, and one of the greates soldiers and officers I ever knew.
When I came back to the Continental U.S, I joined the National Guard in Pennsylvania. I would sometimes vacation in Puerto Rico where I visited him. On one such visit, he paid me a great compliment when he told my cousin I was one of the greatest soldiers under his command. It made me feel proud to hear those words from my role model and dear friend - a hero of Puerto Rico. Tingo I salute you whereever you are in Heaven, with other heroes of the 65th.
I would like to express my gratitude to Noemi Figueroa for the documentary "The Borinqueneers." It gave people a chance to know us and to realize we were a great regiment composed of Boricuas who fought bravely. Many of our brothers died in Korea; they are not forgotten because of her efforts. The people of Puerto Rico should be proud of the heroes who fought for freedom in Korea.
There was a time when we were young soldiers, very patriotic, and we put the neme of Puerto Rico very high with our blood that we left on the hills of Korea. I salute you, Tingo, and all member of the Borinqueneers.
Submitted by Raul Reyes Castaneira
________________________________________________________________________________________________________________________________________
The Reyes Castaneiras Brothers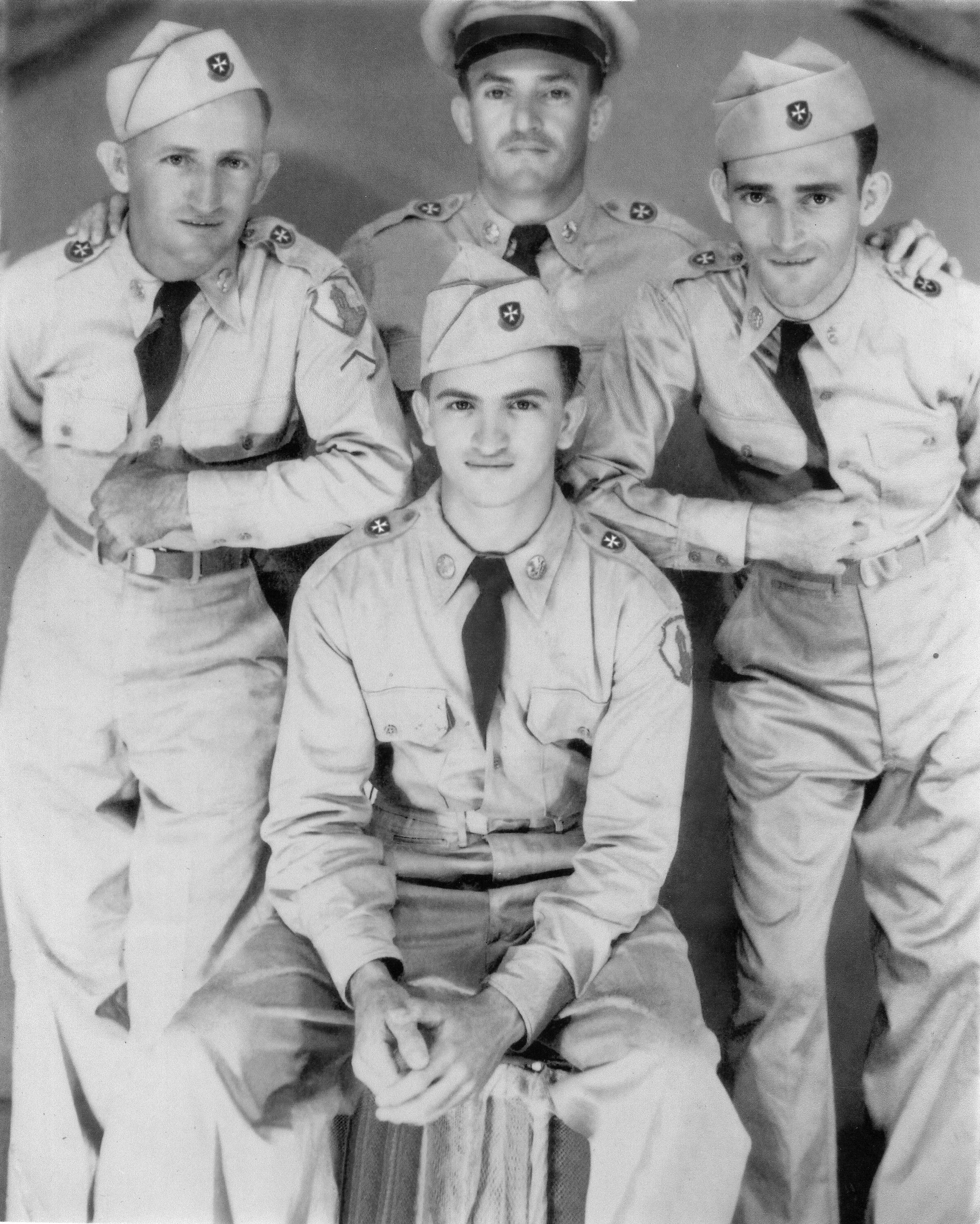 Here is a photograph of myself with my other three brothers – Carlos standing left side, Roberto in the center, William standing on the right side and me sitting in the center. My three brothers were veterans of W.W.II, Carlos fought in the Philippines, William served in Puerto Rico, and Roberto served in Panama and Cuba. Roberto was Regular Army, Carlos and William were Reservists. When the Korean War started I was in the National Guard with the 296th Regimental Combat Team in Puerto Rico, my brothers and I were all called into active service. My three brothers joined the 65th Infantry Regiment and sailed with the Regiment from Puerto Rico to Korea to fight in the Korean War. Carlos and Roberto were members of Company B, Roberto was with Headquarters Company, 3rd Battalion of the 65th Infantry Regiment, they participated in many battles with the 65th and they helped cover the retreat of the First Marine Division when the Division and the X Corp was encircled by the Chinese who had entered the war. My brothers also took part in the evacuation of U.S forces through the port of Hung Nam. Carlos and William were part of a bayonet charge when Company B and Company K was surrounded by thousands of Chinese, they got out safe to our lines. My brothers were always in heavy fighting until they rotated safely back to Puerto Rico.
After my brothers came back from Korea, I was sent with about 500 National Guardsmen as replacements to Korea, I was assigned to Company B of the 65th Infantry Regiment. I served for several months in the front lines doing combat patrols and defending the Jamestown line against the enemy who were constantly firing on us with artillery, mortars, and machinegun fire, we held the line. I was then transferred to the Regimental Headquarters Company where I worked as a Radio Morse Operator; I worked in that capacity until I rotated home back to Puerto Rico. In Regimental Headquarters, I worked closely to Col. Cesar Cordero Davila and I got to know the General of the 3rd Division Thomas J. Cross (Iron Mike), he congratulated me one time for the job I was doing as an Radio Operator Instructor, I was recommended for the Bronze Star, which I never received. I lost many good friends in Korea, one in particular Carlos E. Nieves from Company C who died in a jeep accident in which the jeep went over a cliff on May 1952. I am not going to give all the details about our combat experiences (my brothers and mine) because it would take a long time, so excuse me for that, I will only mention that we did our duty with honor and pride. We honor our comrades who died in that far away land to keep that country free, I hope the Puerto Rican people and the United States never forgets our sacrifice and the blood we shed there. All my brothers are deceased, I dedicated the rest of my life to them, so that nobody forgets them, thanks to web-sites like this and people like Noemi Figueroa Soulet, this is happening.
This article was submitted to this site by Raul Reyes Castaneiras
_________________________________________________________________________________________________________
FERNANDO BETANCOURT SANTAELLA
Pvt -2(P) Service Number US50114750 Service – January 1952 to November 1953
Medals: Korean Service Medal and Bronze Star Attachment with Double Star,Combat Infantryman Badge 1st. Award, National Defense Service Medal, United Nations Service Medal and Good Conduct Medal.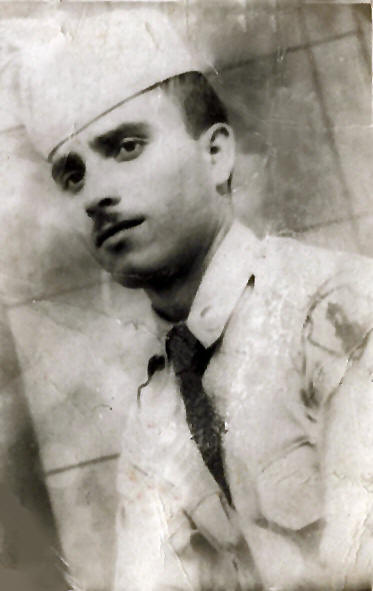 Fernando was born in Carolina, Puerto Rico, on February 29, 1930. He was the only son in a Family of (9) nine and the 2nd born. He attended school only until the 8th grade. Today he is 81 years old and he is a widow, he has 6 children, 20 grandchildren and 24 great-grand children. He lived and worked in New York from February 1954, until November 2010 when he retired and moved to Florida; today he resides in Kissimmee, Florida.

In 1947, his parents moved to Santurce, Puerto Rico and open a grocery store; Fernando quit school to help out in the store. When he turned 18 he landed a job at a diamond center in Santurce as a diamond polisher, He worked there for 2 years before he enlisted in the US Army, this decision was made in agreement with his parents, as he was looking forward to making a better life for himself and his family. He was trained at Fort Buchanan and was ready to ship out when his young bride announced she was pregnant. The hardest decision he ever made, his first child was born on July 10, 1952 and he was shipped out to Korea 15 days later.

He was part of Company A, 1st Battalion, 65th Infantry Regiment, he was a Corporal and Scout for his Company. One of his most unforgettable moments in Korea was the Kelly conflict where he lost a lot of his battalion brothers. In November, 1953 he returned to Santurce, being one of the only 2 soldiers from Santurce (his Barrio) that came back alive. Thanks to his parent's prayers and faith in God, he was home. After his returned the family moved to New York, where he work and went to school under the GI Bill.

As the years went by he never talked or mentioned any medals that he had received. It was not until 2009, when a co-worker saw the Documentary the" Borinqueneers" of the 65th Infantry of Puerto Rico and questioned him about his service in Korea. His co-worker found out about his medals and helped him write a letter to the Army Archives to request them. It was February 2011, that they send him the 5 medals. Today the meaning of these medals is an accomplishment of valor and patriotism that he proudly shares with his siblings, children and grandchildren. One thing is definitely obvious to us that he is here today, thanks to our parents for their prayers and faith in God, during his time in Korea and throughout our lives. Today he is one proud patriot and soldier and we share with him this experience.

This bio and photos was provided to this site by Fernando Betancourt's sister Aracelis Betancourt Miranda.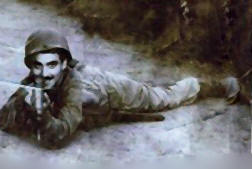 ____________________________________________________________________________________________________________________________
SFC (Ret) Angel Adames-Arce
SFC (Ret) Angel Adames-Arce, age 87 of Clarksville, passed away Sunday, June 26, 2011 at the VA Hospital in Nashville, Tennessee. A Funeral Mass was held at 3 P.M. June 30, 2011 at the Immaculate Conception Catholic Church with full Military Honors and Father Ed Steiner officiating.He was born December 31, 1923 in San Sebastian, Puerto Rico to the late Juan Adames and Mariana Arce Adames. He was also preceded in death by his wife, Eduvigis (Helen) Nieves Adames. He was retired from the US Army having served 28 years, 10 months and 24 days. He served in WWII and the Korean War with the 65th Infantry Regiment (The Borinqueneers), and served in the Vietnam War. His awards and decorations include the Meritorious Service Medal, Army Commendation Medal, Good Conduct Medal, American Campaign Medal, European-Africa-Middle East Campaign Medal (w/ 4 stars), WWII Victory Medal, Army of Occupation Medal (Germany), National Defense Service Medal (w/star), Korean Service Medal (w/4 stars), Vietnam Service Medal (w/ star), Korea Defense Service Medal, Republic of Korea War Service Medal, UN Service Medal (Korea), Overseas Service Ribbon, Republic of Korea Presidential Unit Citation and the Combat Infantryman's Badge. He was a member of Immaculate Conception Catholic Church, a member of the Knights of Columbus (4th degree), a volunteer hospice worker, Eucharistic Minister, Loaves and Fishes volunteer and other church and community activities too numerous to mention. A military honor guard from the 1st Battalion, 327th Infantry of the 101st Airborne Division served as pallbearers and rendered honors for the burial.
________________________________________________________________________________________________________________
Brig. Gen. (ret) Antonio Rodríguez Baliñas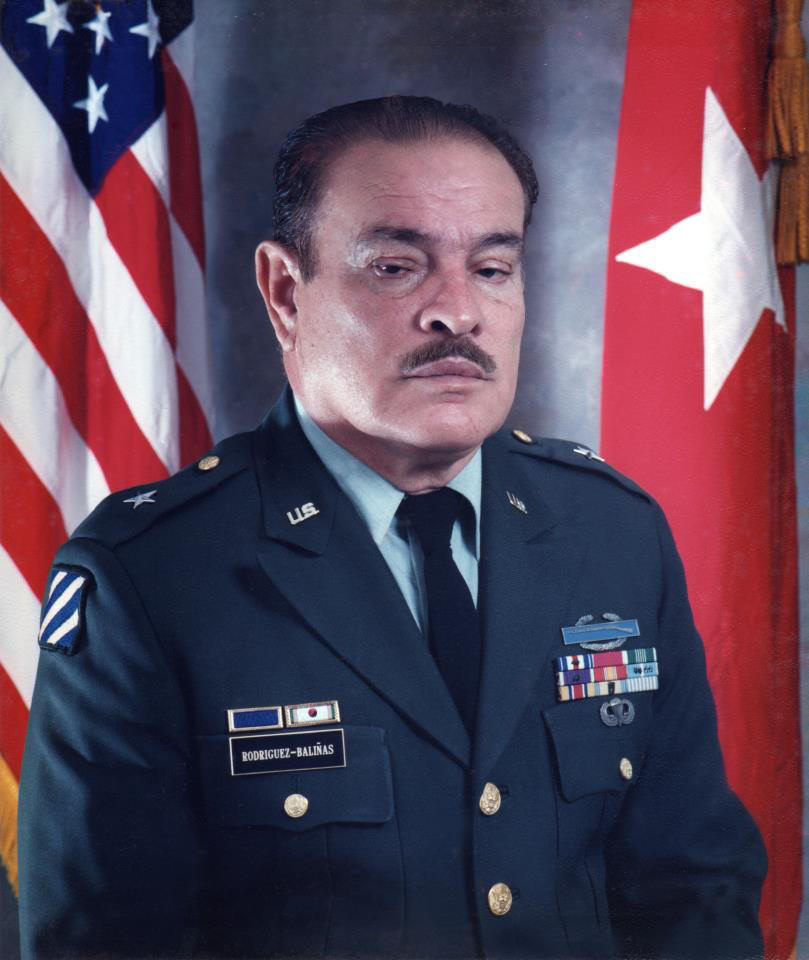 BG Antonio Rodriguez Balinas - Photo source - ArmyReserve/1st MSC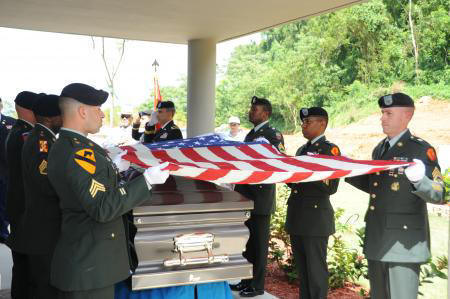 First MSC soldiers fold the U.S. flag during the military funeral ceremony in honor of Brig. Gen. (ret) Rodriguez-Baliñas at the National Cemetery, Bayamón, Puerto Rico. - Photo by Capt. Carlos Cuebas - 23 September 2011.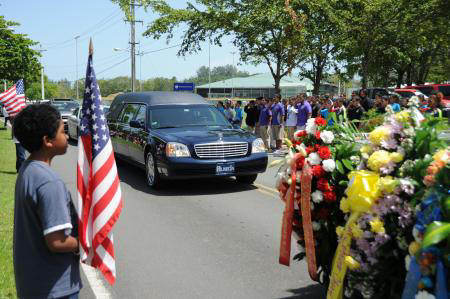 Students from the Department of Defense School System, Fort Buchanan, Puerto Rico, lined up in the streets of the military installation Friday to honor the first Puerto Rican U.S. Army Reserve general, as the funeral motorcade drove through the streets of the only U.S. Army installation in the Caribbean en route to the National Cemetery. - Photo by Capt. Carlos Cuebas - 23 September 2011.
Brig. Gen. Antonio Rodriques-Balinas, 65th Infantry Regiment, passed away in Puerto Rico September 20th, 2011. Antonio Rodríguez Baliñas received a battlefield commission during the Korean War, among his decorations for Valor are 2 Silver Stars and the Purple Heart etc.. Antonio Rodriguez Balinas was a founding member of the 65th Honor Task Force, established in 1999, Chartered by the Senate and Governor of Puerto Rico, honoring unsung hero's and fallen soldiers from the famed regiment. BG Balinas was the first Puerto Rican Commander of the Puerto Rico National Guard. His legacy as a soldier, advisor, advocate and mentor is testament to his dedication to service and love of country. This information was provided by Anthony Mele, Chairman, 65th Honor Task Force, New York.


___________________________________________________
SFC (ret.) Romulo Quinones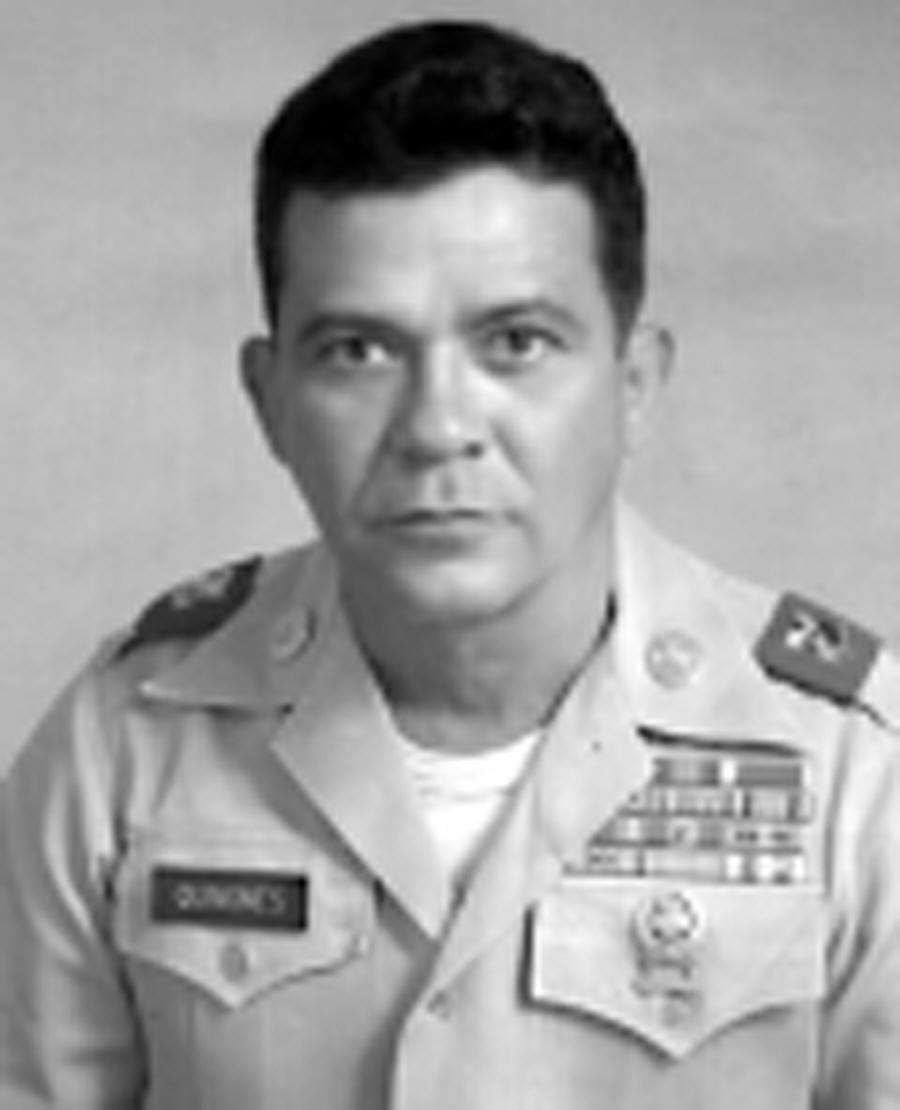 Romulo Quinones, 86, passed away October 15, 2011. Romulo was born in Lajas, Puerto Rico on July 6, 1925 to Beltran and Emilia Alvarado Quinones. He was a Sgt 1st Class retired from the U.S. Army. He served during WWII, Korea, and Vietnam and received the Purple Heart and Bronze Star. After his military career, Romulo retired form Davis Paint. He was a member of Holy Family Catholic Church. Romulo was preceded in death by his parents; 2 brothers, Miguel and Lencho Quinones; and 1 sister, Maria Flores. Survivors include his wife of 59 years, Carmen; 8 daughters: Vivian Porter, Sonia Scheerer, Carmen Terrada, Blanca Senzee, Norma Quinones, Iris Obaidat, Myrna Freeman, and Maria Saulsbury; 3 sons: Romulo, David, and Romel Quinones; 1 brother, Lean Quinones; 1 sister, Silvia Irizarry; 30 grandchildren and 11 great-grandchildren. Mass of Christian Burial will be 1 p.m., Wednesday, October 19, at Holy Family Catholic Church. Visitation is 6-9 p.m., Tuesday, October 18, at the church. Memorials in Romulo's name may be made to Alzheimer's Association or NorthCare Hospice. Condolences to mountmoriahterracepark.com. Mount Moriah Terrace Funeral Home, 801 NW 108th St, Kansas City, MO 64155
___________________________________________________________________________________________________________________________________________________________
CSM (Ret) Manuel Aponte Sandoval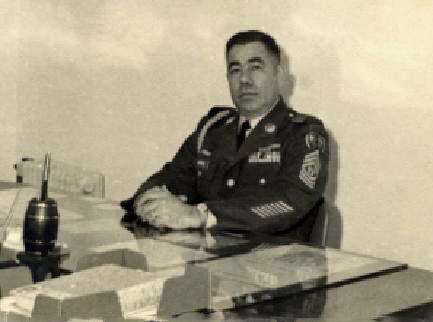 CSM (Ret) Manuel Aponte Sandoval was born on January 1, 1927, in Orocovis, Puerto Rico to the late Cayetano Aponte and Maria Sandoval. He served the United States Army for 30 years, enlisting with the 65th Infantry Regiment in November, 1950, and participating in his first combat tour with A Company of the "Borinqueneers" in the Korean War. He returned from Korea and re-enlisted in the regular Army. He served in a variety of positions from Platoon Sergeant to Command Sergeant Major in various infantry units, including:
- Company I, 12th Infantry Regiment in West Germany (1952-1955)
- Company C, 28th Infantry Regiment in both Fort Carson, CO and Baumholder, West Germany (1956-1959)
- Company D, 1st Brigade, 28th Infantry in Fort Riley, KS (1959-1964)
- Company B, 1st Battalion, 12th Cavalry Division and Headquarters & Headquarters Company, 2nd Battalion, 38th Infantry in South Korea (1964-1965)
- 3rd Battalion, 3rd Basic Training Brigade in Fort Leonard Wood, MO (1965-1968, and 1969-1973)
- 1st Battalion, 2nd Infantry, 1st Infantry Division in South Vietnam (1968-1969)
- Headquarters & Headquarters Company, 2nd Battalion, 4th Infantry in Ludwigsburg, West Germany (1973-1976)
- Headquarters & Headquarters Company, US Army Garrison in Fort Buchanan, PR (1976-1979)
- Headquarters & Headquarters Company, 1st Infantry Training Brigade in Fort Benning, GA (1979-1980)

Manuel received a number of military awards, to include: the Legion of Merit; the Bronze Star; the Meritorious Service Medal (1st Oak Leaf Cluster;Combat Infantryman Badge (2nd award); and the Korean and Vietnam Campaign medals.
Manuel retired in November 1980, and lived with his wife, Pilar, near Orlando, FL. He spent the last three years of his life in the Orlando VA Community Living Center, and died on January 17, 2012. He is survived by Pilar, and his sons Manuel Jr., a Colonel in the US Army, and Ricardo, an entrepreneur in Orlando, FL.
This bio and photograph was provided to this site by Col. Manuel Aponte Jr.
_______________________________________________________________________________________________________________________________________
SFC Ret. Juan Santiago & Family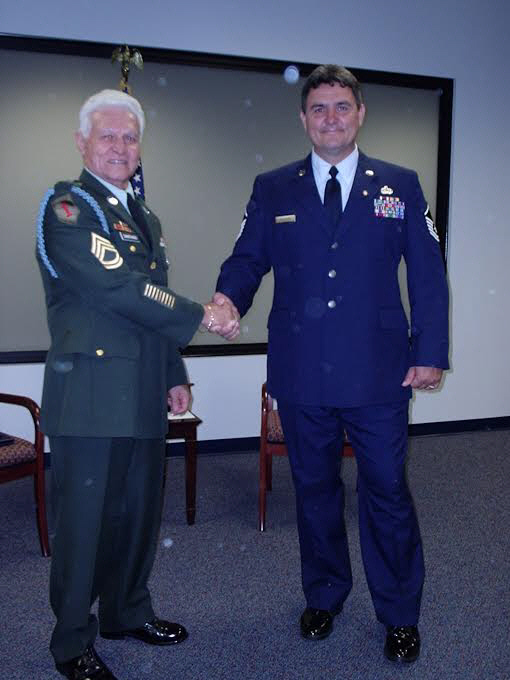 SFC Ret. Juan Santiago & son MSgt (R) Juan Santiago Jr. (U.S. Airforce)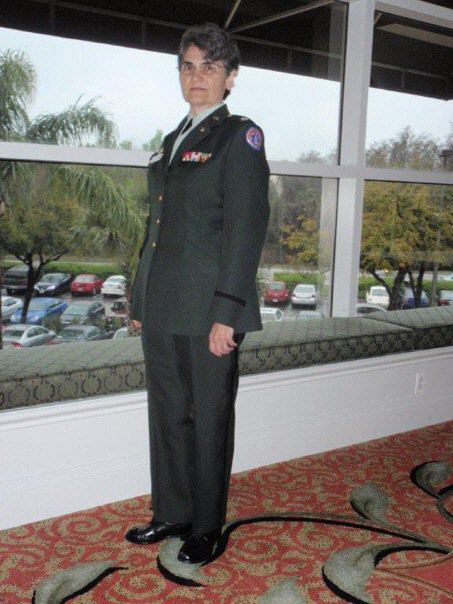 LTC (R) Carmen Nizzi Santiago
SFC (R) Juan Santiago, Sr. - Biography
SFC (R) Juan Santiago, Sr. was born in Santurce, Puerto Rico (PR), on February 6, 1939. He enlisted in the US Army at the age of 19, at Ft. Buchanan, where he remained for a program of pre-basic training orientation. The program had been developed to prepare enlistees for training in the continental US because, although natural born US citizens, many lacked sufficient English proficiency.
He received basic and advanced combat training at Ft. Jackson, SC and airborne training at Ft. Campbell, KY prior to assignment as cadre at the Ft. Benning, GA, Officer Candidate School. His next assignment was to the 25th Infantry Division, Schofield Barracks, HI. In 1964, he was assigned to the 5th Infantry Division, Ft. Devens, MA, then transferred to the 1st Infantry Division, and deployed to Viet Nam with the division in 1965.
He spent a total of 5 years in Viet Nam. From 1965 – mid-1967 he served in Company B, 2nd Battalion, 2nd Infantry Regiment, 1st Infantry Division as a member of the heavy weapons (81 mortar) platoon and as a forward observer. From mid-1967 – 1970 he served in the 120th Assault Helicopter and Command Aircraft Companies, HQ, 1st Aviation Brigade as a helicopter door gunner/crew chief and later as a Ute-21 (fixed wing) crew chief. During that period he was awarded the combat infantryman badge, aircraft crewman badge, 2 purple hearts and 7 air medals.
Not long after returning to the United States, he was selected to attend the second class presented by Defense Race Relations/Equal Opportunity Institute (now the Defense Equal Opportunity Management Institute) at Patrick Air Force Base, FL. He spent the remainder of his military career serving as a Race Relations/Equal Opportunity specialist at the Command and General Staff College, Ft. Leavenworth, KS, Okinawa and Tokyo, Japan, Ft. Jackson SC, the 2nd Infantry Division, Korea and Ft. Lee, VA.
SFC (R) Santiago, retired from active duty February, 1981, having served over 22 years. His immediate family includes his wife LTC (R) Carmen Nizzi-Santiago (US Army) and son M.Sgt. (R) Juan Santiago, Jr (US Air Force) who, as a family, has dedicated 71 years of honorable service to the United States. SFC (R) Santiago continues to serve as a volunteer with US Army Career Counselors in the Melbourne, FL area.
His additional awards include the Meritorious Service Medal, Army Commendation Medal w/OCL, Vietnamese Service Medal w/silver star device, Republic of Vietnam Campaign Medal, National Defense Medal, Korean Defense Service Medal and Good Conduct Medal w/2 silver knots. After retiring from the Army, he was awarded the Order of St. Maurice by the National Infantry Association in recognition of his contributions to and support of the US Army Infantry.
This bio and photographs was provided to this site by SFC (R) Juan Santiago, SR.
_______________________________________________________________________________________________________________
W.W. II Veteran
Raymond Escobar
Photo and information was provided by his proud granddaughter Marcial Martinez.
_______________________________________________________________________________
Captain John Palese MD
My name is John Palese, Sr. and I am 93 years young a veteran of both World War II and the Korean War. During Korean War I had the privilege of serving with the Borinqueneers. My association with the Borinqueneers began in the Panama Canal Zone where I was assigned as the Battalion Surgeon for the 3rd Battalion, 65th Infantry. The 3rd Bn 65th INF was ordered to Korea at the outbreak of the war. We left Panama aboard the Patrick and sailed for Korea via Hawaii. After a brief layover in Hawaii the Patrick broke down en route to Korea and we were towed back. Our unit was put aboard a different ship (the name of the replacement ship escapes me) and we continued our journey to Korea with rumors flying about communist sabotage being responsible for the Patrick's breakdown. We arrived in Korea in September 1950. I served as Battalion Surgeon until October of 1951, when I was relieved by Dr. Hector Gutierrez, who recently passed away. I will never forget my first night in Korea, I moved my tent many times trying to escape the "outhouse smell" I was finally told by a senior NCO " Doc you're not getting away from that smell- it's how they fertilize their fields."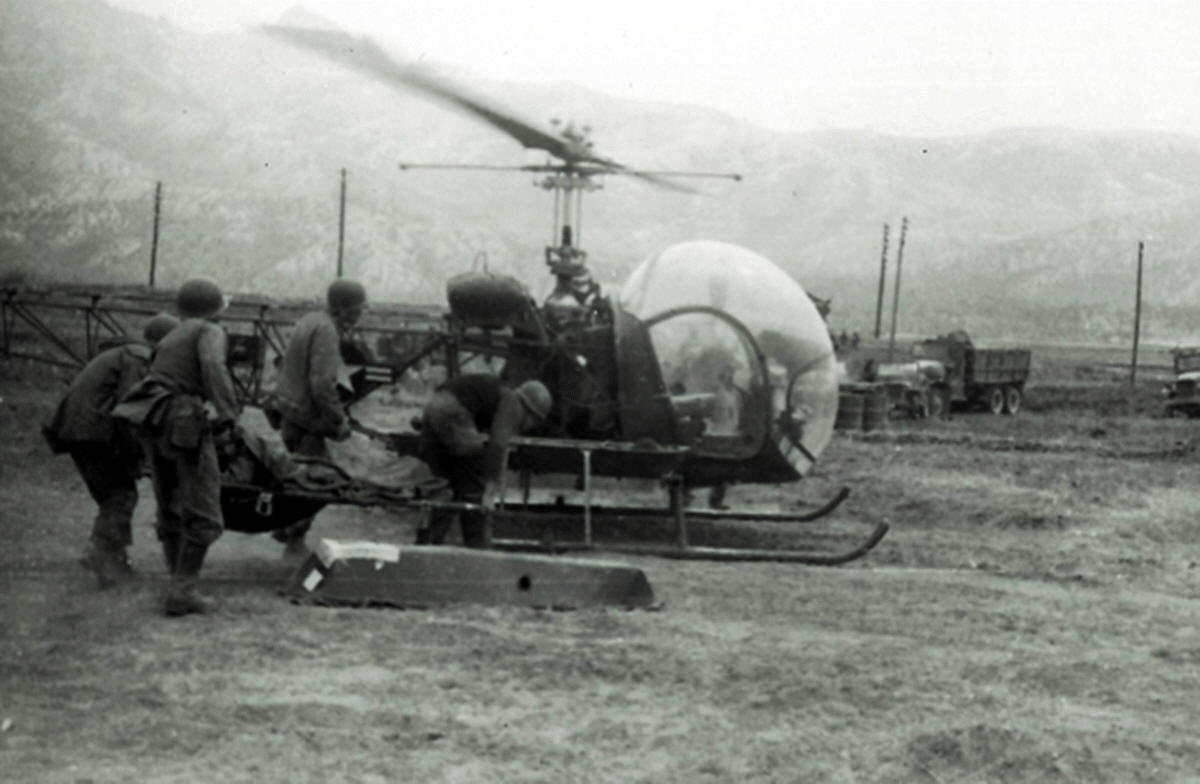 For those not familiar with the job of the Battalion Surgeon, we triaged and treated the wounded, sending those who needed evacuation on to MASH via ground or helicopter ambulance for further treatment.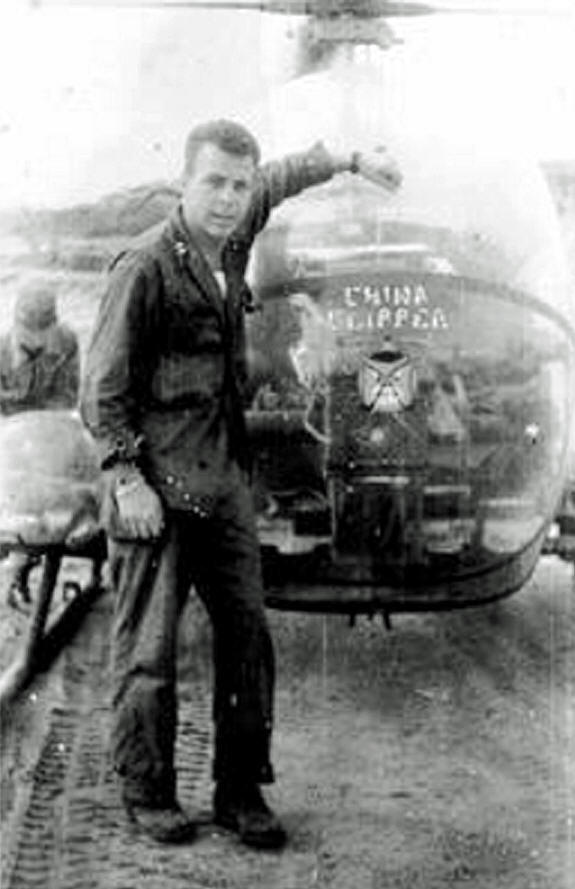 Here is a picture of me with one of the helicopter, if you look carefully in the
background, you can see one of my Medics attending to a patien on the skid liter.
Some other recollections I have from my service in the 65th INF: Our outfit left the Pusan area by boat on Christmas Eve1950 to assist in the relief of the Chosin Resevoir Marines. Combat operations for the relief operation began Christmas Day. We were in nearly continious combat from the Chosin relief operation til my tour in Korea ended. After Chosin we fought near Hung Nam and Ham Hung. While never having received training for amphibious operations, I climbed down the cargo nets into landing craft and was in the 3rd or 4th wave of the landing at Won Son.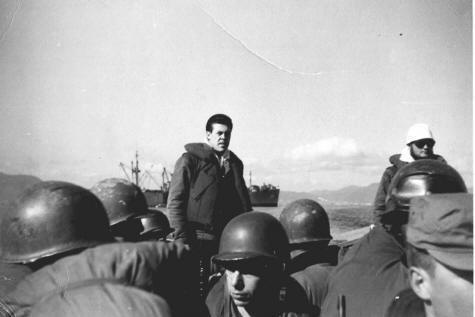 That's me in the center of the photo towards the bottom edge.
After Won Son we were put aboard ship again and returned to the Pusan perimeter. I remember the names of my driver: Quintana, and several of my Medics: Avilez, Tuto, Hernandez, & Cartagena. My assistant Medical Officer was 1Lt Jimenez.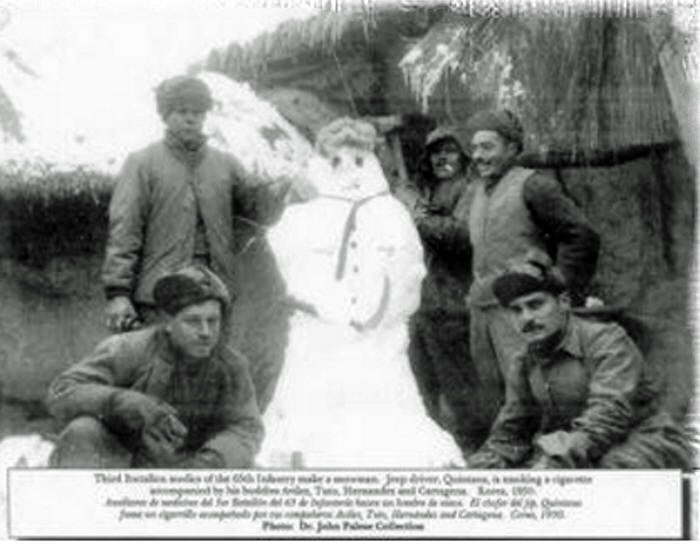 Here is a picture of several of my men which was published in a Korean War Calendar sometime ago. None of the men had seen snow before.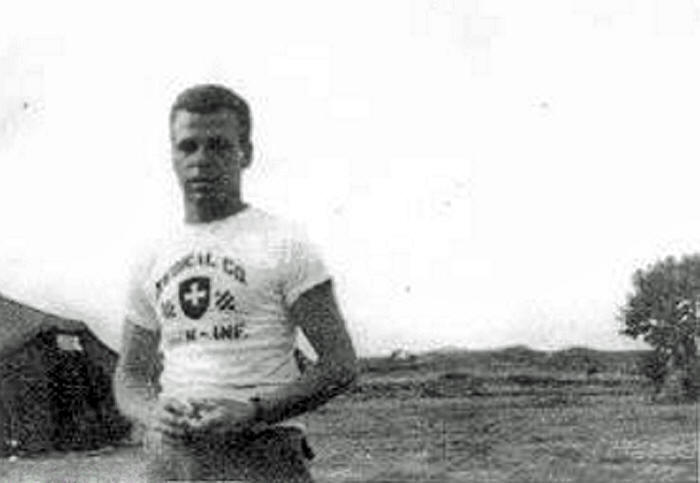 A picture of me wearing the unit colors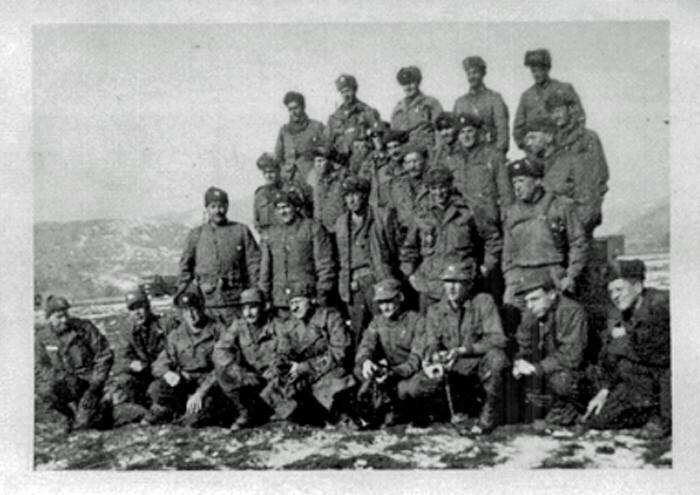 Here is a photo of the 3rd BN 65th INF Officers: I was known as Doc.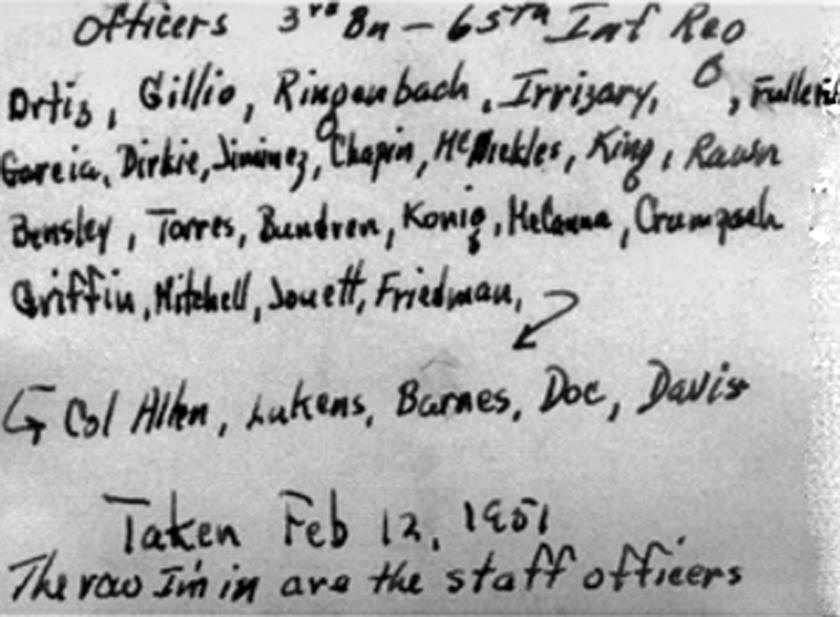 List of names I recall from the photo. - 3rd BN 65th INF : - Commander - Colonel Allen - G2 Captain Barnes - Assistant Medical Officer - 1 Lt. Jiminez - Supply Officer -
Captain Jouett - Captain Anthony P. Krumpach was one of the company commanders, he was KIA. - Captain King - Company Commander - Captain Bensley - Company Commander - Other Officers in the picture were: Captain Mitchell - Captain Charles A. Hecq - 1Lt Davis - 1Lt Ortiz - 1Lt Lukens - 1Lt Irrizary
I'd love to hear from anyone that served with me or knew any of the fine people who served with me.The best way to contact me is via e-mail:[email protected].I'll close with what I always told my kids: the heros all lie in military cemeteries under the Cross of Jesus Christ or the Star of David. The rest of us just did our job and were lucky enough to come home.
HONOR ET FIDELITAS
Dr. John A. Palese, Col, MC, WIARNG (Hon Ret)
______________________________________________________________________________________________________________________
Veterans Day Presentation: A Night of Heros & Heritage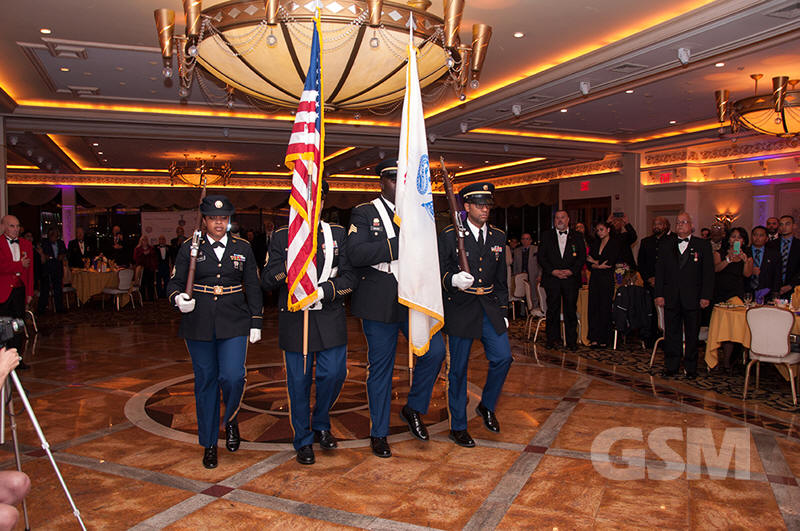 On Veterans Day this Past Sunday, the 65th Infantry Honor Task Force presented War Veterans and Supporters with the Order of St. Maurice Medal and the St. Joan of Arc Medallion. Included were various members of the 65th Infantry Regiment of Puerto Rico – The Borinqueneers – Congressional Gold Medal 2016. It is a time to remember and a time to honor those that served and who serve and defend our proud country.